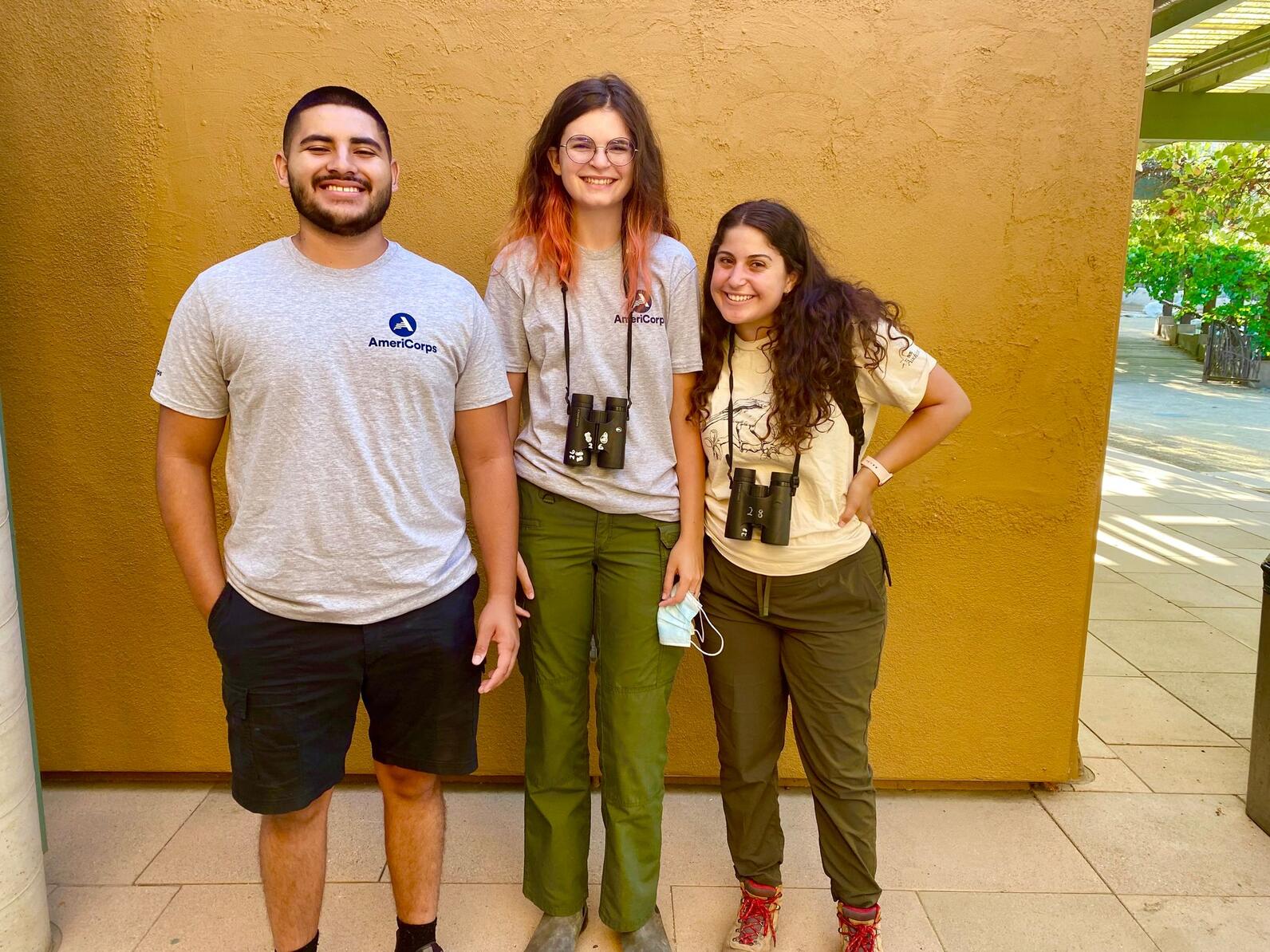 Please join us in welcoming the first-ever cohort of California Climate Action Corps Fellows to the Center! The Fellows are currently serving a two month term as Americorps members and they will be working at the Center through August 2021. They have been gaining hands-on experience in habitat restoration and site management, native plant propagation and identification, point count surveying and bird identification, community engagement, project development & more! The Fellows have also each created an interpretation table, which are offered to the public Saturday mornings in August from 9am-11:30am. Come on by to meet the Fellows and learn more about mammals, reptiles, and birds in Debs Park!
Ricardo Rodriguez
Ricardo Rodriguez is a California Climate Action Corps fellow who is studying Biology with an emphasis in Human Biology at the University of California, Merced. Ricardo is in his senior year and hopes to graduate in May of 2022. This fellowship allows him to work outdoors with many different species of wildlife and it allows him to contribute to the fight against climate change by working on habitat restoration, community engagement, and education. He is excited to build his leadership and communication skills. His goal for this summer is to summon and hold a Red Tailed Hawk on his arm by the end of the fellowship. He was born on 7/11 and delivered inside a 7/11. Yes, like the convenience store.
Mia Jones
Mia is a California Climate Action Corps fellow who is working on native habitat restoration and researching native plant success rates within our new summer restoration sites. Mia graduated as a Biology Major from Occidental College, and at Oxy, she was also a player on the Women's NCAA Lacrosse Team, the president and cofounder of a marine conservation and sustainability club on-campus, a member of Kappa Alpha Theta sorority, and a student researcher in the Biology Dept with Dr. Amber Stubler—studying Jamaican coral reef restoration and ocean acidification. She is excited to stay in LA and work at the center post-grad, where she can explore her new passion for native plants and develop bird identification skills! Outside of the center, you can find Mia working out at the gym, playing tennis or lacrosse, and finding new places to eat in LA.
Ana Moreland
Ana is a California Climate Action Corps fellow who is working on native habitat restoration and compiling a library of birdsong local to Debs Park. Ana studied ecology and evolution at UC Santa Cruz, working with axolotls, northern elephant seals, side blotched lizards, and bats. She is excited to return to the world of SoCal native flora and to try her hand at bird identification! In her spare time she can be found on any of the 110/5/134/101 freeways, because she takes all four to get home, or shopping for new snacks at Trader Joe's.
The California Climate Action Corps is dedicated to advancing climate actions that engage community members, cultivate change, and leave a lasting impact. Selected CCAC Fellows serve 300+ hours as AmeriCorps members over approximately two months, supporting community climate action and/or climate education projects across California. Learn more about the program HERE.