About
Our Staff
Meet the team
Evelyn, Center Director
As a native Angelino, Evelyn is very excited to be part of the Audubon Center at Debs Park crew. Growing up in South Central Los Angeles, she has always enjoyed walks in her neighborhood and finding the hidden gems where nature thrives in the cityscape. As a kid she looked forward to three-day weekends when she would get to go camping. She disliked the food prep, packing up the car, and what felt like an extra-long car ride, but she loved sitting by the river, running around, and using the trees to play hide and seek. When not working you can find Evelyn hiking, tide pooling, or playing board games.
Evelyn earned her Bachelor's Degree from the University of California- Santa Cruz (UCSC) in Marine Biology and her Master's degree from the California State University- Fullerton (CSFU) in Conservation Biology. As an undergrad she was a docent at the Seymour Center, a small aquarium in Santa Cruz, where she was exposed to the world of informal education. While completing her Master's degree Evelyn realized that she loved teaching outdoors and utilizing everything around her to connect people with the natural world around them, and to inspire excitement and curiosity. She is excited to use her experience to connect people with nature and empower our visitors to see themselves as naturalists. Her favorite bird is the Mourning Dove, her grandparents had them as pets and she spent lots of time observing them.
Denys, Facility and Operations Manager
Denys joins the Debs Park crew after putting down roots in Northeast Los Angeles. Denys spent his childhood outdoors exploring the creeks and forest land that surrounded his home in Northwestern Alabama. His love of the outdoors at a young age inspired him to pursue a degree in Zoology from Auburn University. After graduating he moved to Los Angeles and volunteered at the California Wildlife Center in Calabasas, putting him on a 15-year career path rescuing injured wildlife. Working at the Wildlife Center he was able to help animals that were harmed due to negative human interactions by working and managing a wildlife hospital and designing and building enclosures for the patients.
He wanted his career to evolve from helping individual wild animals to one that focused on the broader view of habitat restoration, wilderness preservation, and community engagement. When not working he loves to go camping and traveling with his family and tending to his native plant garden. His favorite bird is the Canyon Wren.
He Sung, Public Programs Manager
As a Los Angeles urbanite through and through, He Sung is new to the world of birding, but is incredibly eager to bring her years of experience in community partnerships and programs to the Audubon Center at Debs Park. A graduate of Molecular Biology and Japanese from the University of California, Berkeley, her time working at the Lawrence Hall of Science fostered a passion in her for learning new things and more importantly, exciting others about learning.
Her hobbies include buying new video games for her never-ending backlog, putting way too many exclamation marks in emails, and enjoying all the delicious food that Los Angeles has to offer. She is excited to connect people to nature and see her favorite bird the American Kestrel in the park.
Melany, Community Conservation Fellow
Born and raised in Lincoln Heights, Melany spends lots of her time exploring the hills in Northeast Los Angeles, learning from the land and understanding the importance these open spaces hold in their communities. She is joining the Audubon Center at Debs Park as our Community Conservation Fellow.
As a recent graduate from the University of California, San Diego, Melany earned a Bachelor's in Ecology, Behavior, and Evolution and a minor in Urban Studies and Planning. While at UCSD, her passion for environmental justice and urban ecology flourished, which led her to pursue opportunities that taught her about urban agriculture, urban forestry, and conservation. Melany hopes to inspire the public to appreciate and care for Los Angeles's open spaces so that future generations can enjoy them. Eager to connect with her community, Melany is excited to join the Audubon Center team at Debs Park. We hope she gets to spot the turkey vulture, her favorite bird, while helping build bird habiat.
Jansy, Environment for the Americas Intern
Welcome back, formerly a Community Conservation Fellow from 2021-2022. She is a passionate environmentalist and advocates for her community. Jansy will be rejoining the team as an intern with the Environment for the Americans and is participating in the Monarch and Pollinator Research and Education Outreach Program this summer.
Jansy is a first-generation Salvadoran - American, Los Angeles native that graduated from the University of California Merced with a Bachelor of Science in Biology. During her time in Merced, she gained an even stronger appreciation for all things nature and furthered her love for science while participating in research labs. Now, Jansy will be focusing on surveying and creating habitat for Monarchs and other pollinators at Debs Park. She is passionate about sharing her knowledge and engaging with individuals of all ages. Jansy hopes to create and nurture the specifically designed habitat for monarchs and pollinators, so we can all actively invite these creatures to the center so we can enjoy them in their natural habitat.
How you can help, right now
Visiting Our Center
Audubon Center at Debs Park is located at 4700 Griffin Ave, Los Angeles, CA 90031
Center Hours:
Thursday to Sunday : 8:00 a.m. to 4:00 p.m.
Trail Hours: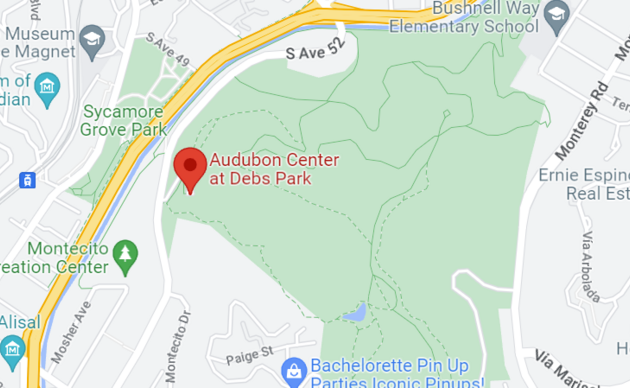 Make a gift
You can help us continue to deliver this outstanding programming to the Los Angeles area by making a generous gift today. Thank you!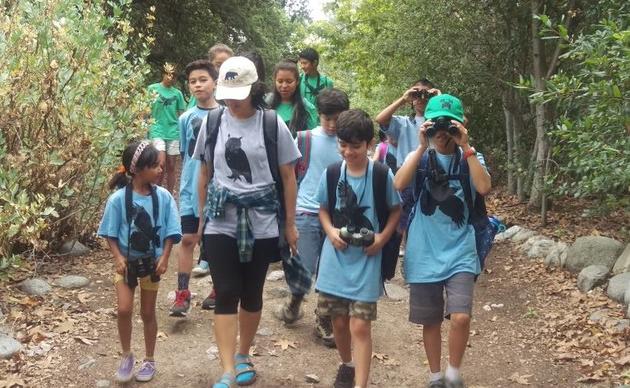 Advocacy Resources
Ready to meet with your representatives? Here are some tools to get you started.