About
Our Staff
Meet the team
Marcos Trinidad, Audubon Center at Debs Park Center Director
Marcos has been at the Audubon Center at Debs Park for nearly four years, and during that time has nurtured a growing community of volunteers, youth and community partnerships; implemented a facility and grounds improvement plan; and partnered with the National Parks Service to establish a vibrant native plant nursery.
Born and raised in Northeast LA, Marcos has deep roots in the community. Prior to coming to Debs, he served as Director of Audubon Youth Environmental Stewards (a program of the Palos Verdes/South Bay Audubon Society), where he engaged and inspired youth to connect to nature and their community through restoration and volunteer projects. He has also spent time as a Biology Technician for the U.S. Forest Service and an Urban Forester for organizations such as Northeast Trees and TreePeople. Marcos' formal education is in geology and anthropology.
Estefania Palacio, Communications and Development Associate
A newcomer to Los Angeles, Estefania fell in love with the Audubon Center at Debs Park as soon as she saw it, quickly fostered a growing interest in urban environmental justice movements and issues around park accessibility. While she grew up in cities, Estefania's fondest memories include rescuing small animals and going on hikes at Miami's Fairchild Tropical Botanical Gardens and Georgia's Amicalola Falls with her dad and younger brother.
Having served as a temp in 2017, Estefania is happy to return to the Audubon Center at Debs Park as the Communications & Development Associate. Her responsibilities include updating our newsletter with cool and exciting updates, working with local partners, and the Center's social media. She's also the point of contact for room reservations and operations questions about the Center.
Estefania loves all animals, including the Center's snakes, Fluffy and Rex. She invites you to stop by the Center and learn more about these local snakes and is happy to tell you some fun facts about them!
Cindy Castaneda, Conservation Program Coordinator
Cindy Castaneda is dedicated to the conservation of species and habitat. As a graduate with a master's degree in Biology and a Geographic Information Systems (GIS) certificate from California State University, Los Angeles (CSULA) she evaluated the genetic effects of timber harvest on amphibian species of special concern (coastal giant salamander, tailed frog, and southern torrent salamander) in northwestern California to inform management practices.
In her role as Conservation Program Coordinator at the Center, she manages seventeen acres of sensitive habitat and supports all conservation projects including, but not limited to: habitat restoration, habitat assessments, pest management, and wildlife and vegetation surveys. Cindy's projects include enhancing LA River pocket parks in Elysian Valley.
Additionally, Cindy has experience conducting avian point counts and vegetation surveys in the Angeles National Forest and as a former Ecology Teaching Associate at CSULA, she helped students explore the interaction of organisms with their environment.
As a board member on the Ascot Hills Park Advisory Board she collaborates with community members and industry professional to further steward urban open space in Los Angeles.
Mika Perron, Volunteer Engagement Coordinator
Mika was born and raised in Seattle, WA but was drawn to the sunshine of Southern California in 2013 and has been here ever since. After graduating from Occidental College in 2017, Mika completed a year of service as an AmeriCorps VISTA at another NELA nonprofit, the L.A. Kitchen. She currently resides in nearby Eagle Rock with her chihuahua, Stella.
With a degree in Sociology, Mika is committed to tackling social inequalities, empowering underserved communities, and working together to create sustainable and inclusive change. In addition to the natural surroundings of The Center, Mika is especially inspired by The Center's dedication to engaging the local community and people of color in the environmental conservation movement.
Mika is passionate about volunteer engagement and believes that volunteering is one of the best ways to get involved in your local community. She is thrilled to have the opportunity to introduce new people to the amazing work that takes place at The Center through the Volunteer Program. If you'd like to get involved, please don't hesitate to reach out!
Tania Romero, Fund 2 Foundation Apprentice
Tania's passion for birds lead her to the Audubon Society. Born and raised in Los Angeles, CA specifically South Central prior to moving to Highland Park seven years ago, she believed Los Angeles did not have any nature or wildlife. After graduating from the University of California, San Diego with a bachelor's degree in Biology and double minor in Environmental Studies and Ethnic Studies in 2016, she decided to come back to Los Angeles and little did she know she would stay here.
Tania enjoys nature and the outdoors and believes they can be found everywhere, even in urban settings. She is passionate not only about birds but providing nature connections to urban communities and social justice in the conservation field. Her early career has consisted mostly of field work ranging from point count surveys, bird banding, and habitat restoration throughout the Los Angeles area. She hopes that in her new position in Debs Park, Tania can show that the conservation field is for everyone.
Natasha Khanna, Field Organizer
Natasha is Audubon California's new field organizer for Southern California. While she will be serving as the liaison to Southern California chapters, Natasha will be helping to build local advocacy on a variety of issues, with climate at the top of the list.
In the past, Natasha has volunteered here in the Los Nogales nursery and interned with the Palos Verdes/South Bay Audubon Society's YES program. She comes to us from the Special Service for Groups Alliance, where she served as case manager, connecting clients to mental health services. She was also a program coordinator and outreach consultant for the Asian Pacific Policy and Planning Council in Los Angeles. In her free time, Natasha likes to play soccer and practice yoga and mindfulness.
Plus our partner organization staff members
Justin Yee, Urban Waters Ambassador and Nursery Co-Manager
Justin began working for the National Park Service in 2014 conducting vegetation monitoring and invasive plant removal in the Santa Monica Mountains. In 2015, Justin began re-activating Los Nogales Nursery with the help of NPS and Audubon staff, growing several thousand plants, training volunteers, and transforming degraded parkland into native habitat. Through his work at the NPS, Justin hopes to cultivate public appreciation for our natural landscapes as well as LA's urban ecology.
Currently, Justin coordinates the Urban Waters Federal Partnership, a coalition of federal agencies, state and municipal agencies, NGO's, and community organizations whose common goal is to revitalize and restore the Los Angeles River. Justin's 'enabling' role is to connect needs, resources, and partnerships to the group of 40+ stakeholder institutions.
How you can help, right now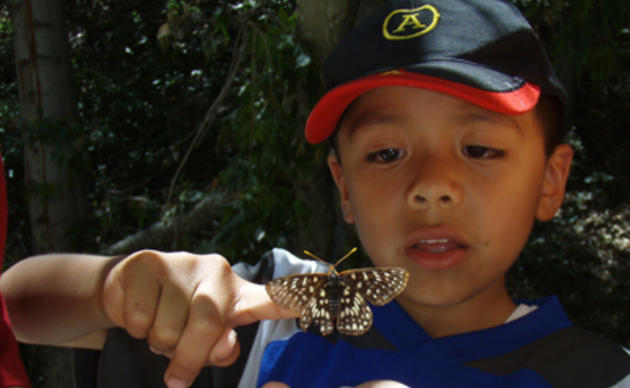 Make a gift
You can help us continue to deliver this outstanding programming to the Los Angeles area by making a generous gift today. Thank you!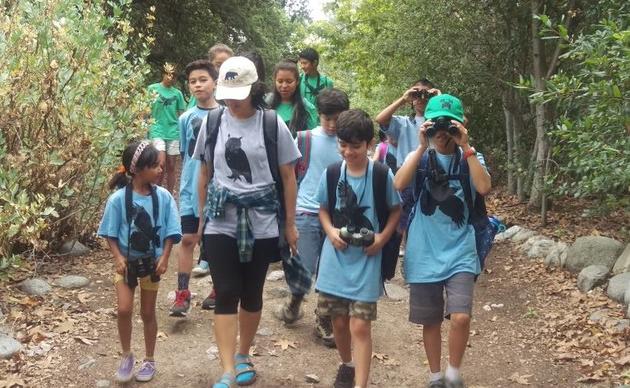 Volunteer with us
Giving just a little bit of your time can make a big difference to the success of our center.