About
Our Staff
Meet the team
Marcos Trinidad, Center Director
Marcos Trinidad has been Center Director at the Audubon Center at Debs Park for five years, and during that time has nurtured a growing community of volunteers, youth and community partnerships; implemented a facility and grounds improvement plan; and partnered with the National Park Service to establish a vibrant native plant nursery. Born and raised in Northeast Los Angeles, where his family has lived for 70 years, Marcos has deep roots in the community. Prior to coming to Debs, he served as Director of Audubon Youth Environmental Stewards (a program of the Palos Verdes/South Bay Audubon Society), where he engaged and inspired youth to connect to nature and their community through restoration and volunteer projects. He has also spent time as a Biology Technician for the U.S. Forest Service and an Urban Forester for both Northeast Trees and TreePeople. Marcos' formal education is in geology and anthropology. Marcos is an Army Veteran stationed in Hohenfenls, Germany as part of the 7th Army Training Command, the Army's largest overseas training command and served as a 19D Cavalry scout, Forward Observer.
In addition to his military service, Marcos continues to serve and work toward a more environmentally inclusive Los Angeles. For two decades, Marcos has advanced equity, diversity and inclusion in the environmental movement, including co-directing LA's Environmental Professionals of Color chapter. Through that work, Marcos promoted and sponsored forums for people of color working in environmentally-related careers. He was recognized in 2017 by the North American Association for Environmental Education as the recipient of the Rosa Parks and Grace Lee Boggs Award for his leadership in environmental justice, education and advocacy. Most recently, Marcos was selected to be one of the Grand Marshal's for the 11th Annual Northeast LA Veterans Day parade representing Highland Park and in 2018, he was honored as the Council District 14th Veteran of the Year. Marcos loves to go bird watching with his nine-year-old daughter Paloma and his seven-year-old son Bija along the Los Angeles River. He is a world traveler and feels most complete when he goes on extended camping trips with his beautiful family.
Evelyn Serrano, Public Programs Manager
As a native Angelino, Evelyn is very excited to be part of the Audubon Center at Debs Park crew. Growing up in South Central Los Angeles, she has always enjoyed walks in her neighborhood and finding the hidden gems where nature thrives in the cityscape. As a kid she looked forward to three-day weekends when she would get to go camping. She disliked the food prep, packing up the car, and what felt like an extra-long car ride, but she loved sitting by the river, running around, and using the trees to play hide and seek. When not working you can find Evelyn hiking, tide pooling, or playing board games.
Evelyn earned her Bachelor's Degree from the University of California- Santa Cruz (UCSC) in Marine Biology and her Master's degree from the California State University- Fullerton (CSFU) in Conservation Biology. As an undergrad she was a docent at the Seymour Center, a small aquarium in Santa Cruz, where she was exposed to the world of informal education. While completing her Master's degree Evelyn realized that she loved teaching outdoors and utilizing everything around her to connect people with the natural world around them, and to inspire excitement and curiosity. She spent 11 years as a member of the Education Department at the California Science Center in Exposition Park. She is excited to use her experience to connect people with nature and empower our visitors to see themselves as naturalists.
Mika Perron, Senior Center Coordinator
Mika was born and raised in Seattle, WA but was drawn to the sunshine of Southern California in 2013 and has been here ever since. After graduating from Occidental College in 2017, Mika completed a year of service as an AmeriCorps VISTA at another NELA nonprofit, the L.A. Kitchen.
With a degree in Sociology, Mika is committed to tackling social inequalities, empowering underserved communities, and working collaboratively to create sustainable and inclusive change. In addition to the natural surroundings of The Center, Mika is especially inspired by the Center's dedication to engaging the local community and people of color in the environmental conservation movement.
Mika is passionate about volunteer & community engagement, and she is thrilled to have the opportunity to introduce new people to the amazing work that takes place at the Center through facility rentals, volunteer opportunities, and community programs. If you'd like to get involved, please don't hesitate to reach out!
Jansy Alvarado, Community Conservation Fellow
Hailing from South Central LA, Jansy is excited to join the Debs Park familia. Jansy is the youngest out of three siblings, and the only person in her family to take interest into pursuing an education in biology. Jansy's love for nature comes from her parents. Both of her parents are immigrants from El Salvador and shared their love for nature with her since early childhood by visiting many parks and going on camping trips to places like Sequoia National Park. During Jansy's studies at the University of California, Merced, Jansy gained a new appreciation for nature when learning about how many plant species are displaced due to agriculture and urban development. Jansy's favorite bird is the Anna's Hummingbird and loves to read in her free time (accepting all book recommendations). Jansy is most excited about meeting everyone at Debs, being out in nature, and helping her community.
How you can help, right now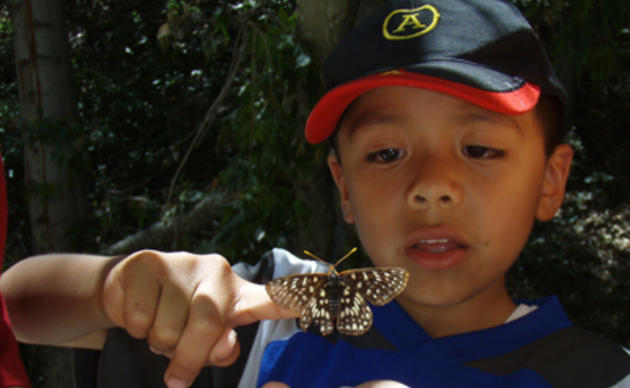 Make a gift
You can help us continue to deliver this outstanding programming to the Los Angeles area by making a generous gift today. Thank you!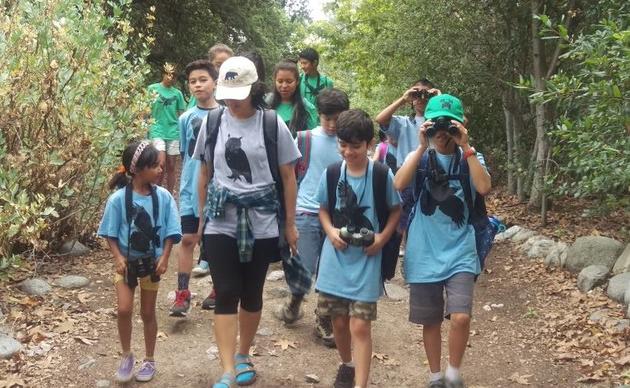 Volunteer with us
Giving just a little bit of your time can make a big difference to the success of our center.