Visit
Plants in Debs Park
Debs Park features a wide array of California native plants, and we propagate seedlings in our nursery for habitat restoration.
Native Vascular Plants of Debs Park
Updated April 2009
General characterization of vegetation: Three main habitats, walnut savannah, oak-walnut-toyon woodland, and coastal sage scrub. Walnut savannah on south-facing slopes is relatively monotonous, with large walnut trees growing in dense clumps surrounded by exotic grasses. Woodland on north-facing slopes is more floristically diverse, with large shrubs (e.g. Lemonadeberry) in the understory. Coastal Sage Scrub, rich in native annuals, is highly localized and extensively fire-damaged; largely restricted to steep sites on the northwest corner of site adjacent to Griffin Ave.
DICOTS

ANACARDIACEAE
Rhus integrifolia Lemonadeberry
Rhus ovata Sugarbush
Malosma laurina Laurel Sumac
Toxicodendron diversilobum Poison Oak

ASCLEPIADACEAE
Asclepias eriocarpa Indian Milkweed
A. fascicularis Narrow-leaf Milkweed

ASTERACEAE
Artemisia californica California Sagebrush
A. douglasiana Mugwort
Baccharis pilularis var. consanguineaCoyotebush
B. salicifolia Mulefat
Brickellia californica California Brickellbush
Encelia californica California Encelia
Ericameria palmeri var. pachylepisPalmer's Goldenbush
Erigeron foliosus var. foliosus Fleabane Aster
Eriophyllum confertiflorum var. confertiflorum Golden Yarrow
Gnaphalium californicum Green Everlasting
G. canescens ssp. microcephalumWhite Everlasting
G. stramineum (no common name)
Hazardia squarrosa var. gindelioidesSaw-toothed Goldenbush
Hemizonia ramosissima Slender Tarplant
Heterotheca grandiflora Telegraph Weed
Isocoma menziesii var. vernonioidesCoast Goldenbush
Lessingia f. var. filaginifolia California-aster
Malacothrix saxatilis var. tenuifoliaCliff-aster
Stephanomeria v. ssp. virgata Wand Chicory

CACTACEAE
Opuntia x. vaseyi (hybrid between O. littoralis and O. phaecantha)

CAPRIFOLIACEAE
Lonicera subspicata var. denudataChaparral Honeysuckle
Sambucus mexicana Blue Elderberry
Symphoricarpos mollis Creeping Snowberry

CONVOLVULACEAE
Calystegia macrostegia ssp. intermedia Morning-glory

CRASSULACEAE
Dudleya lanceleota Lance-leaved Dudleya

CUCURBITACEAE
Cucurbita foetidissima Calabazilla
Marah macrocarpus var. macrocarpusWild Cucumber, Man-root

CUSCUTACEAE
Cuscuta californica var. californicaDodder

EUPHORBIACEAE
Chamaesyce albomarginataRattlesnake weed
Eremocarpus setigerus Doveweed

FABACEAE
Amorpha californica var. californicaCalifornia False-Indigo
Lotus salsuginosus var. salsuginosus(No common name)
L. scoparius Deerweed
Lupinus succulentus Arroyo Lupine
Trifolim wildenovii Tomcat Clover
Vicia sp. Vetch sp.

FAGACEAE
Quercus agrifolia Coast Live Oak
Q. x. (hybrid between Q. berberidifolia and Q. lobata, fide A. Sanders, UCR Herbarium)

GROSSULARIACEAE
Ribes aureum var. gracillimum Golden Currant
R. speciosum Fuchsia-flowered Gooseberry

HYDROPHYLLACEAE
Phacelia brachyloba Yellow-throated Phacelia
P.a cicutaria var. hispida Caterpillar Phacelia
P. viscida Sticky Phacelia
Pholistoma auritum var. auritum Blue Fiesta Flower

JUGLANDACEAE
Juglans californica var. calif. California Black Walnut

LAMINACEAE
Salvia mellifera Black Sage
(S. apiana White Sage – known from adjacent "Montecito Hills" just to the south)
Stachys bullata California Hedge Nettle

NYCTAGINACEAE
Mirabilis californica Wishbone Bush

ONAGRACEAE
Clarkia c. ssp. cylindrica Farewell-to-spring
C. unguiculata Elegant Clarkia
Epilobium c. ssp. canum California Fuchsia

PAPAVERACEAE
Eschscholzia californica California Poppy (may have been planted)

PLATANACEAE
Platanus racemosa Western Sycamore

POLYGONACEAE
Eriogonum e. var. elongatum Long-stemmed Buckwheat
E. fasciculatum ssp. foliolosum California Buckwheat

PORTULACACEAE
Claytonia p. ssp. perfoliata Miner's-lettuce

RANUNCULACEAE
Ranunculus californicus California Buttercup

RHAMNACEAE
Rhamnus c. ssp. californica California Coffeeberry
R. ilicifolia Holly-leaved Redberry

ROSACEAE
Heteromeles arbutifolia Toyon
Prunus ilicifolia Holly-leaved Cherry
Rosa californica California Wild Rose

RUBIACEAE
Galium a. ssp. angustifolium Narrow-leaved Bedstraw
G. aparine Goosegrass

SCROPHULARIACEAE
Mimulus aurantiacus Bush Monkeyflower
Keckiella cordifolia Heart-leaved Penstemon

SOLANACEAE
Datura wrightii Jimsonweed
Solanum douglasii White Nightshade

URTICACEAE
Parietaria hespera var. hespera Western Pellitory
Urtica dioica ssp. holosericeae Hoary Nettle

VERBENACEAE
Verbena lasiostachys Vervain

MONOCOTS

AMARYLLIDACEAE
Bloomeria crocea Golden Stars
Dichelostemma pulchellum Blue Dicks

IRIDACEAE
Sisyrinchium bellum Blue-eyed Grass

LILIACEAE
Chlorogalum pomeridianum Soap Plant, Amole

POACEAE
Bromus carinatus California Brome
Leymus condensatus Giant Ryegrass
L. glauca Blue Ryegrass
Melica imperfecta Coast Melic
Nassella pulchra Purple Needlegrass
Typha sp. Cattail

POTOMOGETONACEAE
Potamogeton pectinatus Sago Pondweed
How you can help, right now
Visiting Our Center
Audubon Center at Debs Park is located at 4700 Griffin Ave, Los Angeles, CA 90031
Center Hours:
Thursday to Sunday : 8:00 a.m. to 4:00 p.m.
Trail Hours: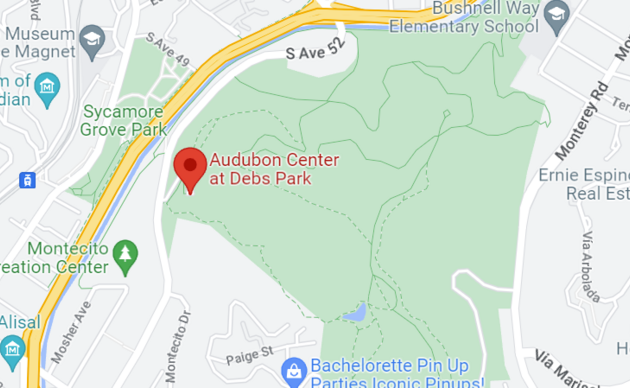 Make a gift
You can help us continue to deliver this outstanding programming to the Los Angeles area by making a generous gift today. Thank you!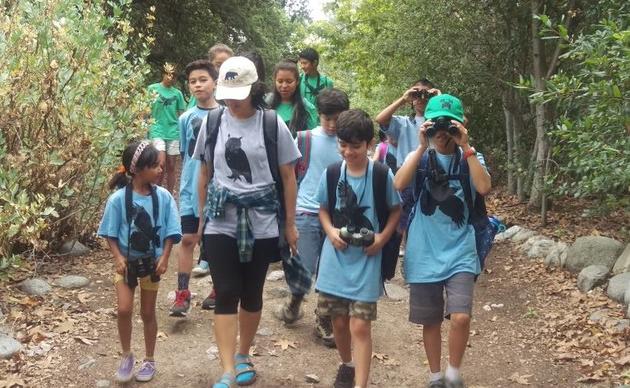 Advocacy Resources
Ready to meet with your representatives? Here are some tools to get you started.