The holiday season is in full swing here at the Audubon Center at Debs Park and we were super excited to celebrate with our annual Native Plant Wreath-Making Workshop! On Saturday, November 23rd, we invited our community to participate as part of our Nature Arts + Crafts Series. This workshop is one of our favorite holiday traditions to share with our community because it gives us a chance to introduce people to California native plants and it also gives us an opportunity to make holiday memories together!
Many families came to the Audubon Center at Debs Park to make holiday wreaths together under the pepper tree with the wonderful sound of the Old Time String Jam Band in the background. We loved teaching people about the different plants being used to make these wreaths. Our staff was amazed by the creative ways our community used native plants to make wreaths of all sizes!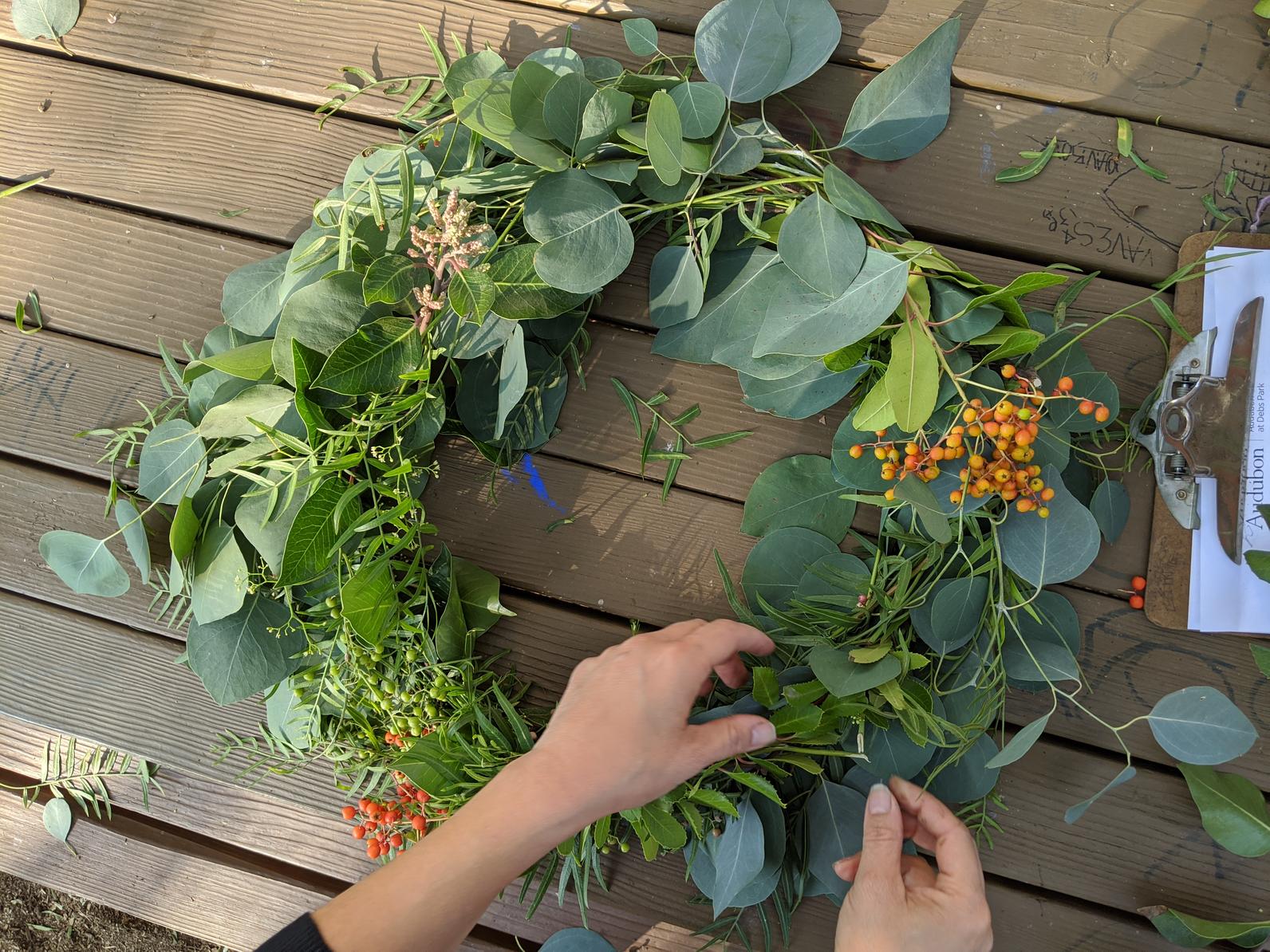 Interested in the plants we used and why? Our holiday wreaths are made with a base of pepper and eucalyptus tree branches. If you've visited the Center, you might recognize California Pepper Tree, which ironically is not a California native! We also used eucalyptus tree branches – invasive trees originally from New Zealand and Australia. Their leaves have a great scent and some of them have beautiful white berries that looked beautiful on the holiday wreaths. Both the California pepper tree and eucalyptus have branches are pliable which make for a good base. Because these serve as the base, they made up the majority of the plants we cut back from our trails.
We used California native plants to fill and decorate our native plant wreaths. Some of the plants we included are:
Toyon (

Heteromeles arbutifolia)
This is by far the most festive plant at the Center. When the winter begins, toyon sprouts beautiful red berries. Toyon actually goes by the name of "Holly wood" because of its similarity to the traditional holly plant. During the winter, you'll see many of the plants at the Center go dormant except for toyon.
Sugar bush (Rhus ovata)
Sugar bush is another evergreen plant you'll still see blooming at the Center. They have reddish-pink branches giving them a festive appearance. At the end of each branch, you can see pink-cream flower clusters that added dimension to the wreaths.
Lemonade berry (Rhus intergrifolia)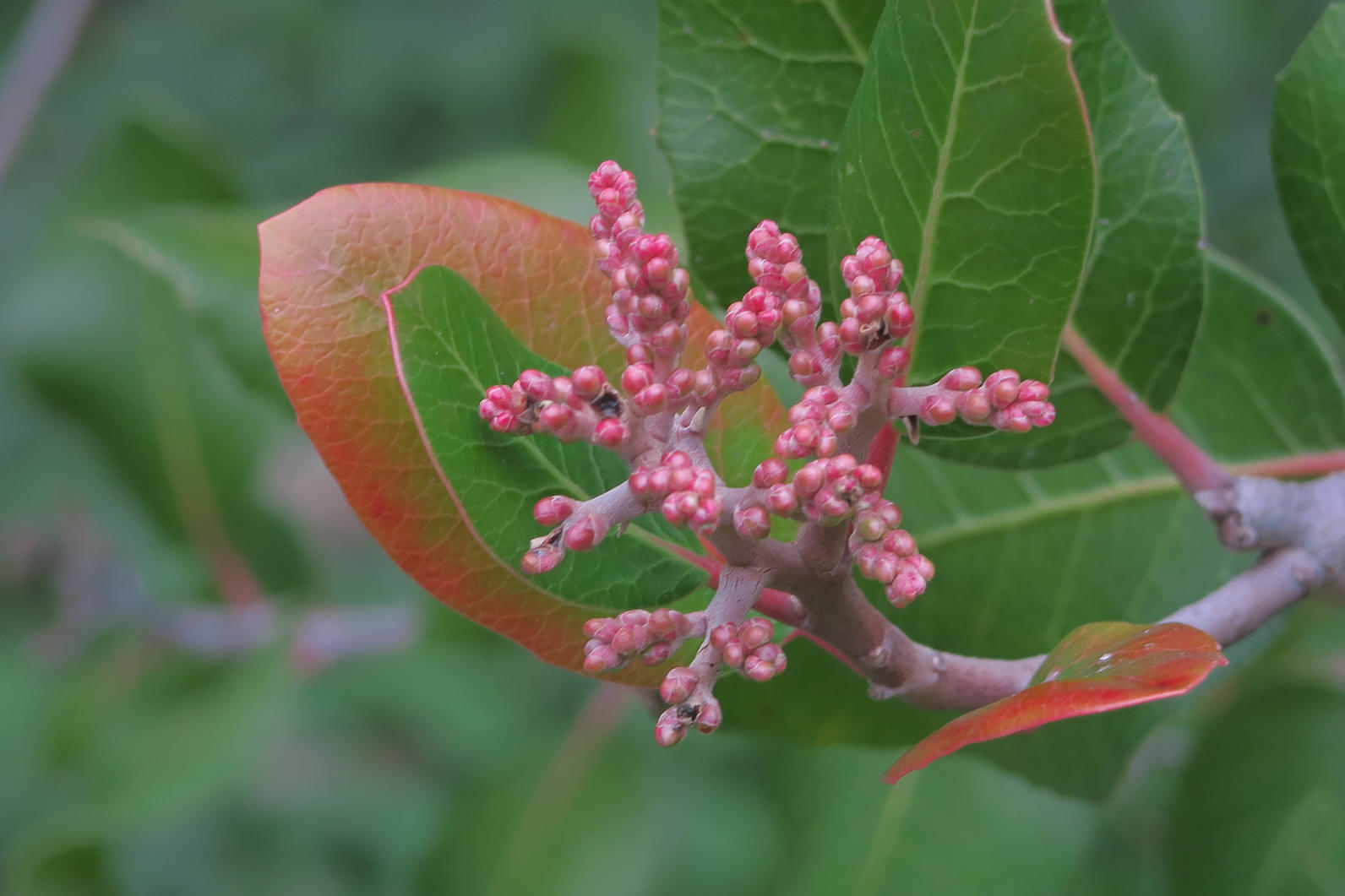 Part of the same family as sugar bush, lemonade berry is another great addition to a native plant holiday wreath. During the winter, the orange and pink flower clusters of lemonade berry stay shut, but look beautiful in any wreath!
Do you love the holidays as much as we do? Don't miss our Christmas Bird Count on Saturday, December 21st!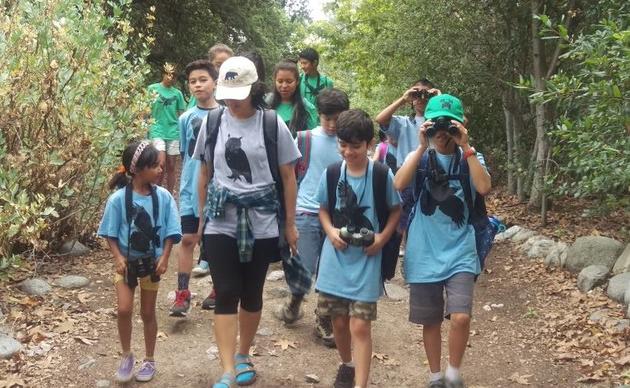 Support our work
Help us bring the beauty of nature to the Los Angeles Area by making a generous gift today!