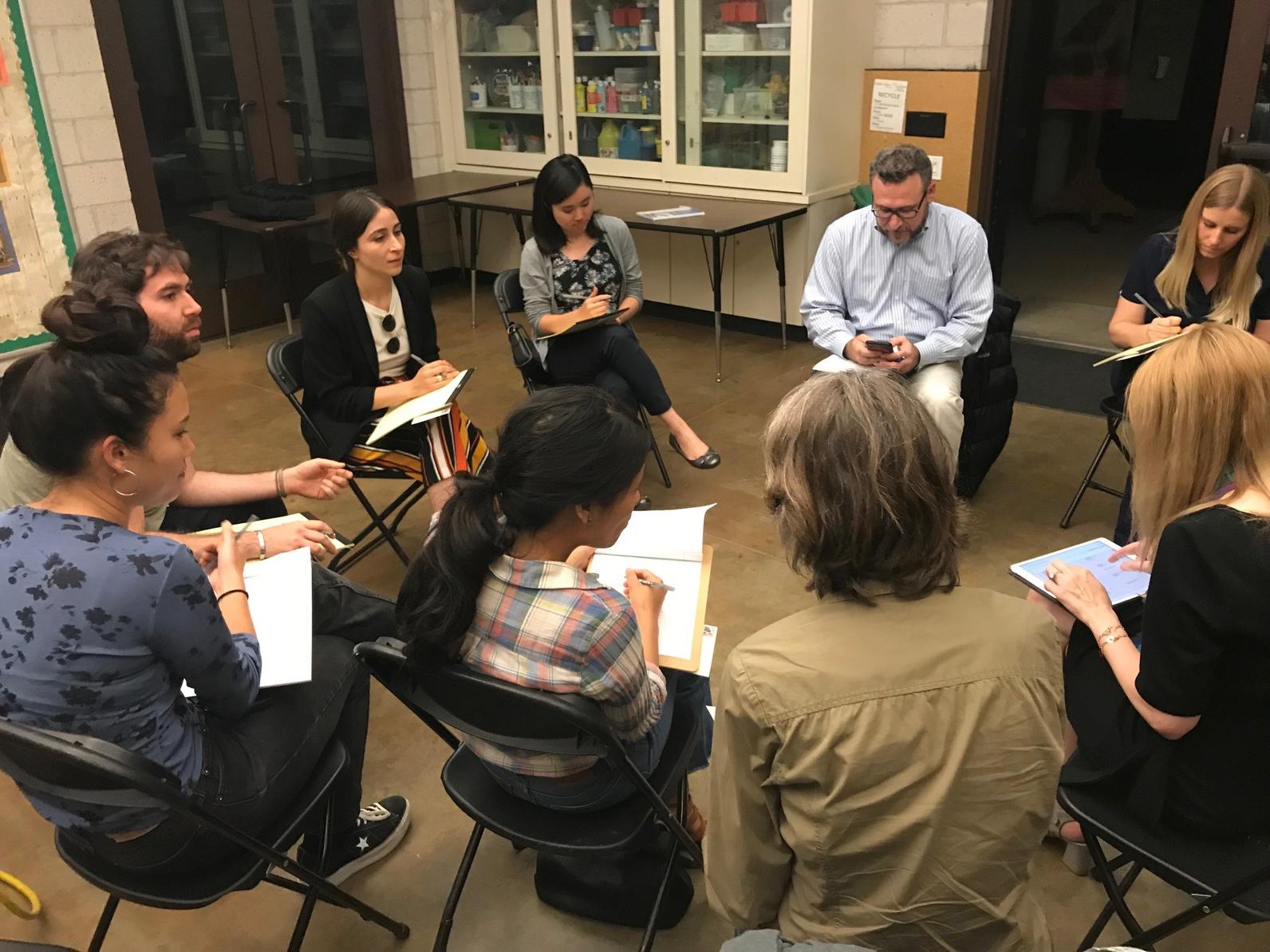 On Tuesday, June 18th we hosted our 4th Environmental Advocacy Workshop in partnership with L.A. Works here at the Audubon Center at Debs Park. The theme for the evening's discussion was building sustainable cities, and how we can hold elected officials accountable throughout the process of sustainable development by sending handwritten letters. After a quick introduction by L.A. Works and the Audubon Center, Dominique Hargreaves, Deputy Chief Sustainability Officer with the Mayor of LA, presented an overview of the City's Green New Deal and their ambitious priorities in regards to creating a more green and sustainable Los Angeles, as in line with the international Paris Agreement.
Participants had the opportunity to ask questions relevant to them and their neighborhoods and were provided with further resources to explore the City Green New Deal further. The floor was then turned over to Alfredo Gonzalez, Program Officer at Resources Legacy Fund, who guided the group through the evening's "action item," which was handwritten letter writing. Alfredo began his portion by providing a brief overview of government structures and who to contact with different concerns, before transitioning the letter writing activity. Alfredo highlighted the importance of building personal relationships with elected officials and pointed towards handwritten letter writing as one of the most impactful ways that an individual can use their voice to advocate on different issues. Former Assemblywoman Cindy Montanez, now Executive Director at TreePeople, had come out to attend the workshop and was able to vouch for the importance of building these personal relationships as well.
Attendees then divided into two groups for the letter writing activity: people that lived in the City of LA and those that lived outside of the City. Alfredo and Dominique worked with the City of LA group to write letters to Councilwoman Nury Martinez, chair of the Energy, Climate Change, and Environmental Justice Committee, regarding a motion to reduce the impact of carbon emissions resulting from the purchasing of common building materials. Cindy worked with the group of people who didn't live in the City of LA to advocate for the passing of the bill currently in the Senate and Assembly that would phase out single-use plastics state-wide. Audubon Center at Debs Park provided participants with envelopes and stamps to ensure that the over twenty handwritten letters would be mailed to elected officials. Community members were really engaged and eager to ask questions. Many appreciated the opportunity to work closely with our knowledgeable speakers.
We can't wait for next month's event where we will be discussing further environmental policy issues and how to be an advocate through community organizing and engagement. Join us and RSVP today via the LA Works website!