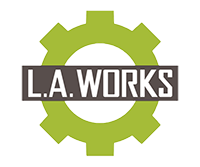 About the Organization: LA Works is volunteer action center that creates and implements hands-on community service projects throughout the greater Los Angeles area. They strive to empower Angelenos to address pressing social issues through volunteerism and community collaborations. Their mission consists of three principal pillars:
INCREASE volunteer participation in community service projects;
PROVIDE our nonprofit partners with access to volunteer labor and other RESOURCES; and
EDUCATE and encourage people to engage in the broader social issues affecting the greater Los Angeles Community.
Visit their website for more info!
Our Partnership: As the platform through which many of our volunteer opportunities are posted, LA Works has been a critical partner for the Center and plays a large role in our volunteer recruitment and management. Beyond our Habitat Restoration and Enhancement opportunities, we have collaborated with LA Works on a number of additional volunteer and advocacy opportunities, such as Plogging (pictured above) and our Environmental Advocacy Bootcamp Series. Additionally, LA Works regularly connects the Center with corporate volunteer groups. We are so grateful for their continued partnership!