Last week, from June 10th – 14th, the Audubon Center at Debs Park held its Arroyo Adventure Summer Camp for 19 local kids ages 7-12. Our Arroyo Adventure Summer Camp curriculum is designed in support of our mission: to connect people to nature and to enrich children's lives through meaningful, inclusive experiences in the outdoors. Through fun hands-on, science-based exploration and immersion in the natural world, we aim to create future environmental stewards that will continue to enrich their communities and carry with them a sense of equity and responsibility for our environment. Depending on the daily theme, campers may become naturalists, botanists and ethnobotanists, native plant gardeners, ornithologists, conservationists, wildlife biologists, hydrologists, and of course, Adventurers- all while learning about the importance of cooperation, community, and sustainability.
Each day of our summer camp was marked by a different ecologically themed adventure including urban wildlife such as plants, birds, mammals, and reptiles. Through these themes, campers learned new skills and how to become better stewards of our environment--all while having a lot of fun! Check out some of our favorite moments from An Arroyo Adventure 2019!
MONDAY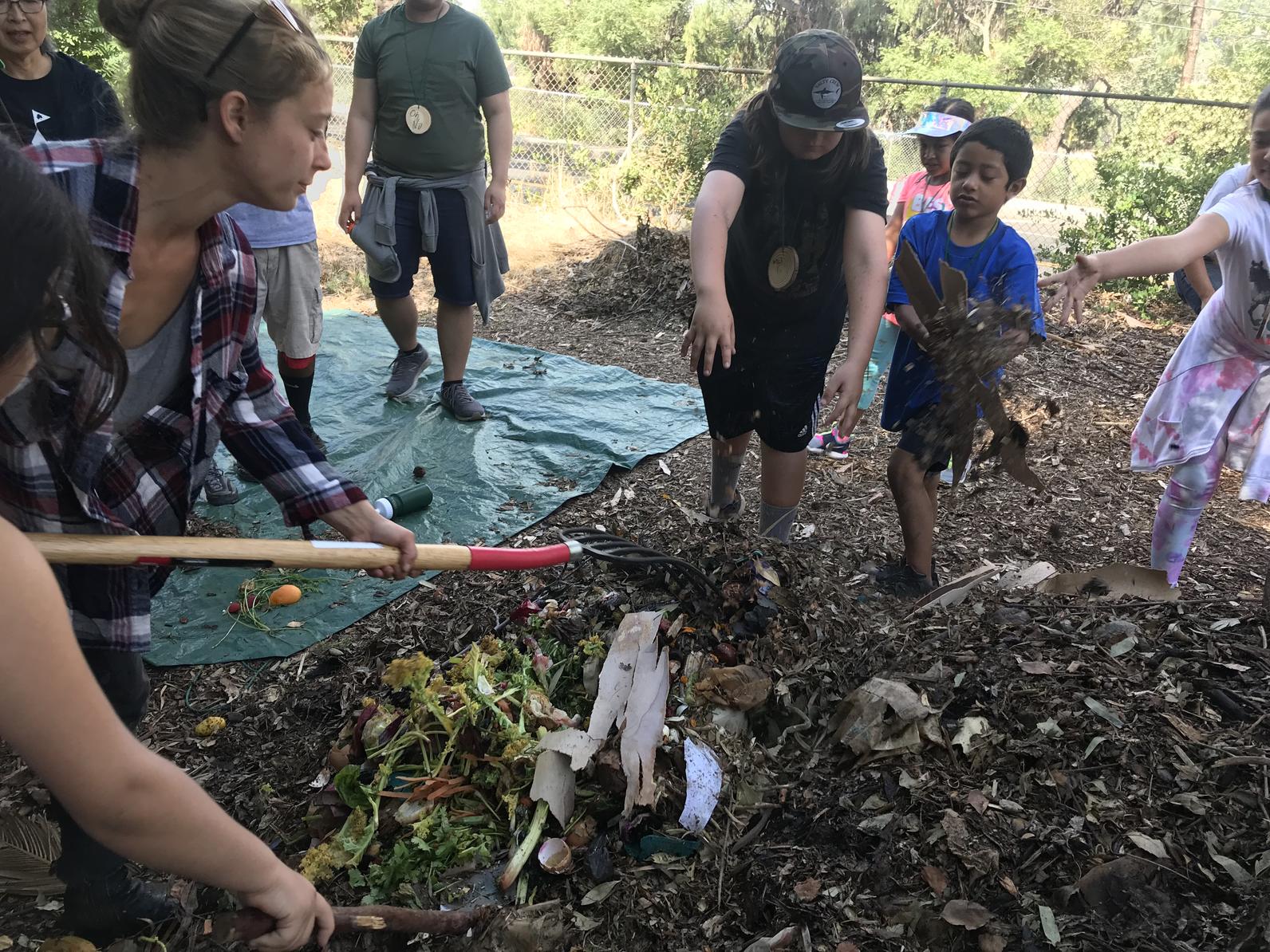 Camp started on Monday with an introductory circle. Campers got to know each other and each camper chose their own nature name, which served as their identity throughout the week. Campers also received a reusable water bottle for the week and crafted their own nature journals. These journals serve to jot down any observations, ideas, and thoughts they collect throughout their week at camp. The theme of the day was plants, so campers learned about the plant life cycle, adaptations, and morphology. We were joined by Mike from LA Compost, who taught the campers about composting and the decomposition process. We ended the day cooling off by playing water games under the Pepper Tree!
TUESDAY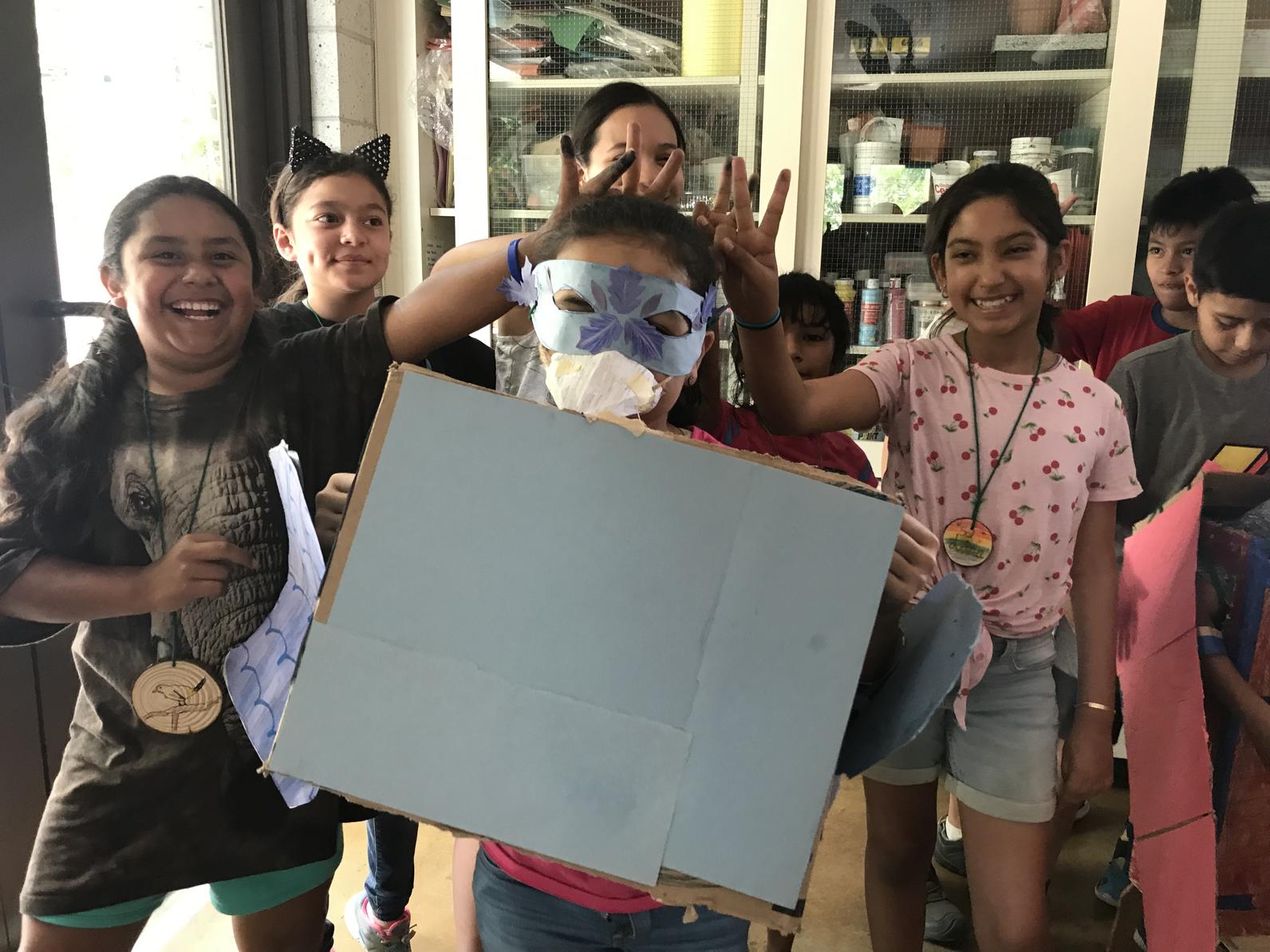 Tuesday was all about birds! After playing some cool bird games, campers went into their themed lesson. They learned all about birds – bird calls, wings, beaks, talons, and how all the different parts of a bird's body are adapted for its environment, habitat, and diet! Camp counselor, Tania Romero, took everyone on a bird hike, and campers got to learn how to use binoculars and how to identify birds by sight and sound. Some of the cool sights we saw were a Red-tailed hawk, ravens, and California towhee! Once we knew all about birds, campers participated in An Arroyo Adventure's 2nd Annual Bird Olympics, testing who could drink water as fast as a Costas hummingbird, run as fast as an ostrich, and flap as fast as an Anna's hummingbird.
One of our favorite events from the bird day was dividing into teams to craft a bird costume. Our campers divided into 3 teams, each was given a bird guide, some cardboard, scissors, glue, and coloring materials. Using these materials, each team had to decide what bird they were going to make a costume of, who was going to wear the costume, and how they were going to make it. Our 3 teams were Team Northern Cardinal, Team Anna's Hummingbird, and Team Blue Jay. After all the costumes were made, we held a fashion show for our birds!
WEDNESDAY
Day 3 was all about watersheds! We were joined by Adrian Hightower from Metropolitan Water District who gave campers a lesson on LA's water cycle. Campers learned the process of water coming from the Colorado River delta to our pipes and into our homes, how planets affect the tides, and the natural water cycle. Some of the themed nature games we played with campers were "Who Polluted the Arroyo?" and "Drip Drip Drop," and a water relay race.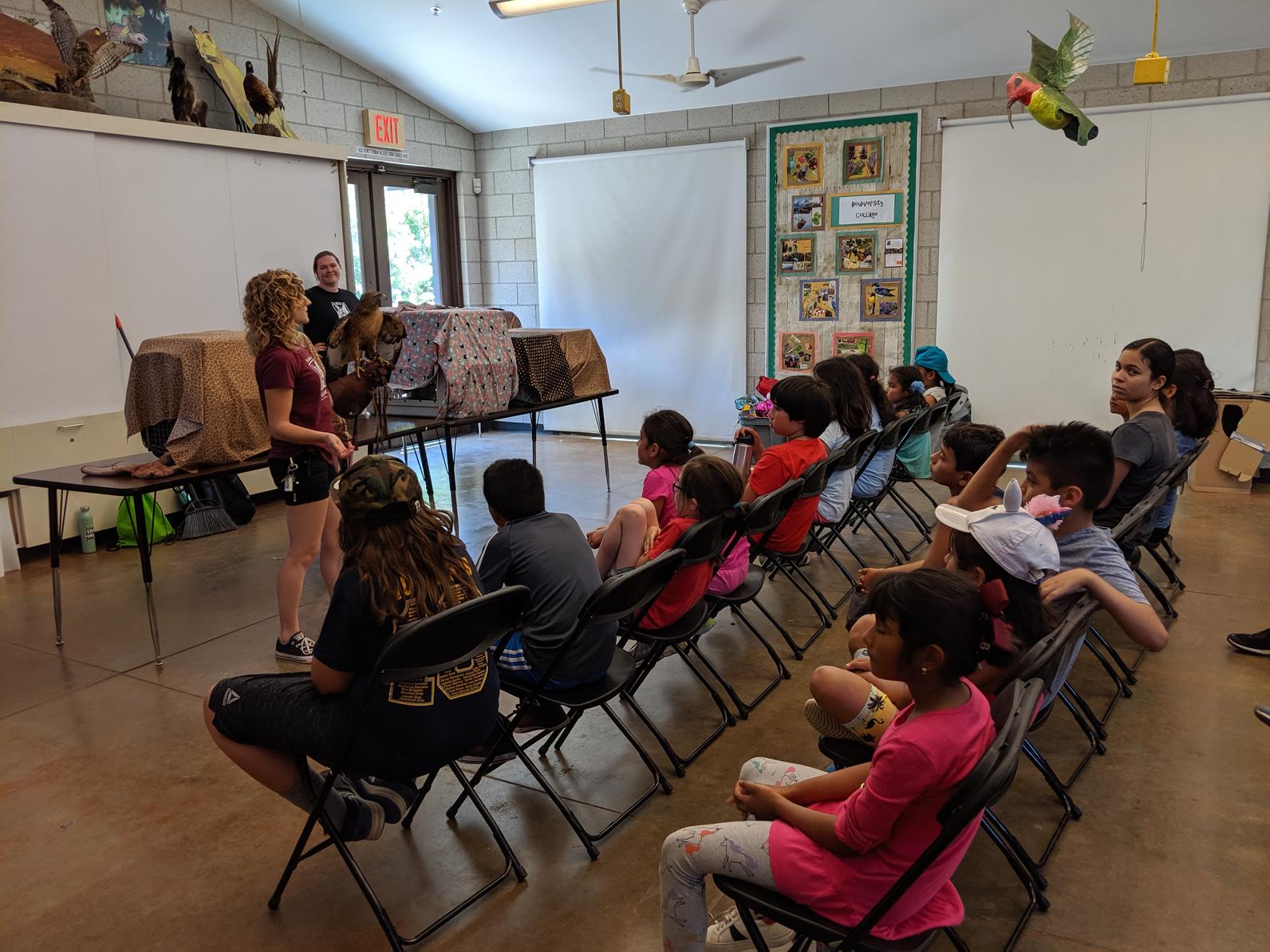 We were joined by a more feathery batch of special guests later in the day – actual birds! Nature of Wildworks came through with some birds of prey to teach campers more about birds and their various features. We were excited to be joined by Nature of Wildworks and their birds of prey including Dancer the Barn Owl, Dragon the Red-tailed Hawk, and Harry the Turkey Vulture. Our campers listened closely as their handlers explained some of the cool traits of each bird and how their bodies are adapted to suit each birds' needs. After seeing all the birds, campers were invited to ask questions for the handlers. It was cool so see such bird birds up close and personal!
THURSDAY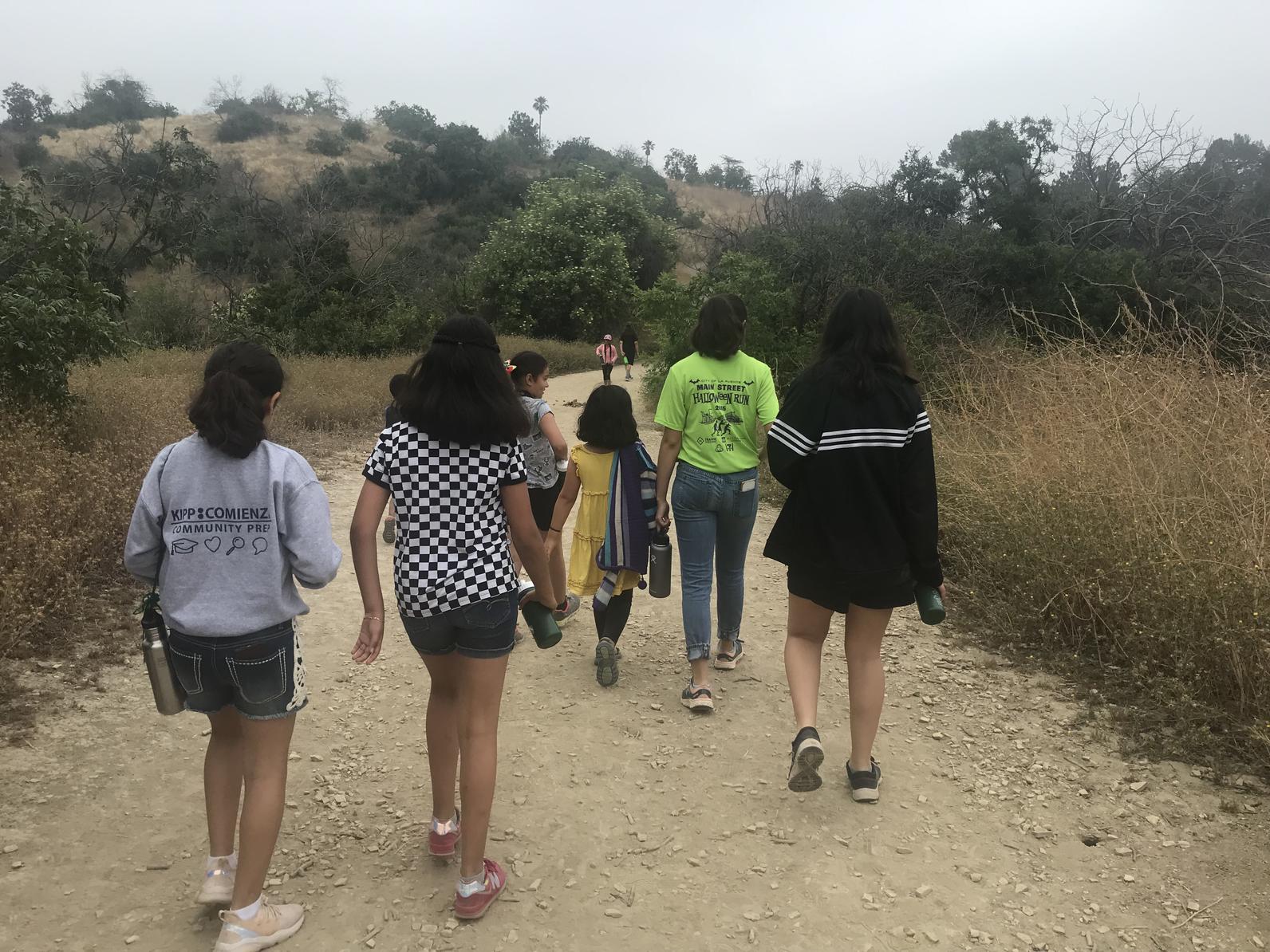 On Thursday, the theme was Naturalists. Campers started the day with a lesson about naturalists – what is a naturalist? What do they do? It was a nice cool day – perfect for hiking up to Peanut Lake at the top of the mountain. Along their hike, campers observed not just with their eyes, but with their noses, ears, and fingers. Once we reached Peanut Lake, campers explored the new habitat up there. Peanut Lake is a very different habitat from our Center! Each camper made their own nature drawing, inspired by the sights up at Peanut Lake. Then, it was time to hike back down.
We wanted campers to remember their time at An Arroyo Adventure Summer Camp, so we did the most camp thing you can do: tie dye! Campers made their own Naturalist t-shirts, with decorations inspired by the wildlife and plants they spotted on their hike to Peanut Lake.
After that, Mr. Heralda from Aztec Stories joined us for a cool lesson on indigenous instruments! Mr. Heralda taught our campers how to make Toyon rhythm sticks – made from the Toyon plant, a California native plant which can be found here at the Audubon Center at Debs Park! Each camper sanded, softened the edges of, and painted their own Toyon rhythm stick.
FRIDAY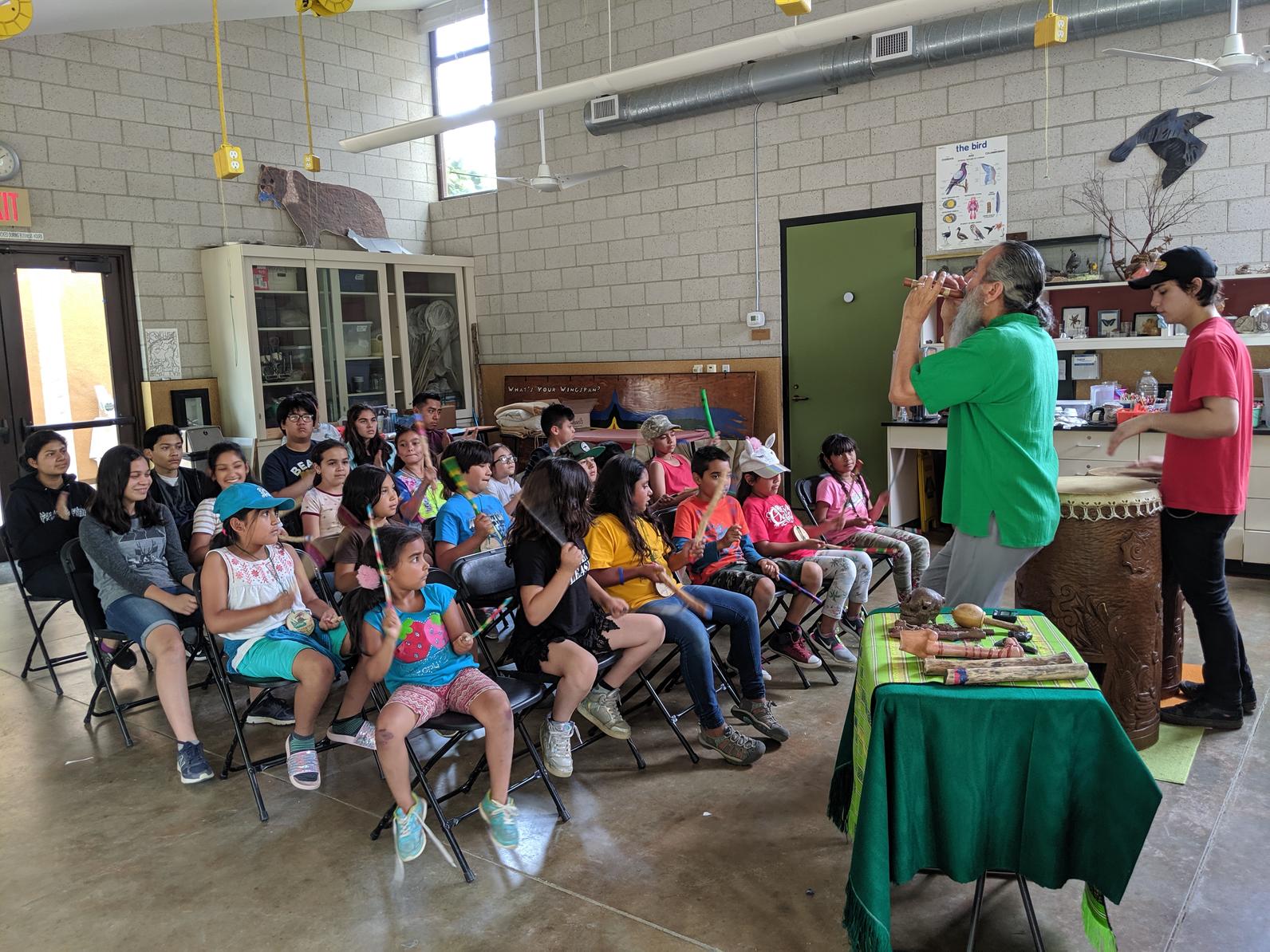 Summer Camp wrapped up on Friday – Ecosystems Day. We were sad to see our campers go, but not before learning all we could about all types of ecosystems! The themed lesson was around ecosystems – campers learned about trophic levels and food webs. We divided into teams and each team created their own food web – based either in a desert, a forest, or an ocean! Using the knowledge we learned in our lesson, campers connected all the animals and plants in the food web to illustrate the flow of energy from the producers to the predators.
Mr. Heralda joined us again for a performance by Aztec Stories. The performance told campers traditional indigenous stories through music, teaching them about all kinds of cool indigenous instruments made from different natural elements! All the campers participated in playing songs along with Mr. Heralda with their rhythm sticks!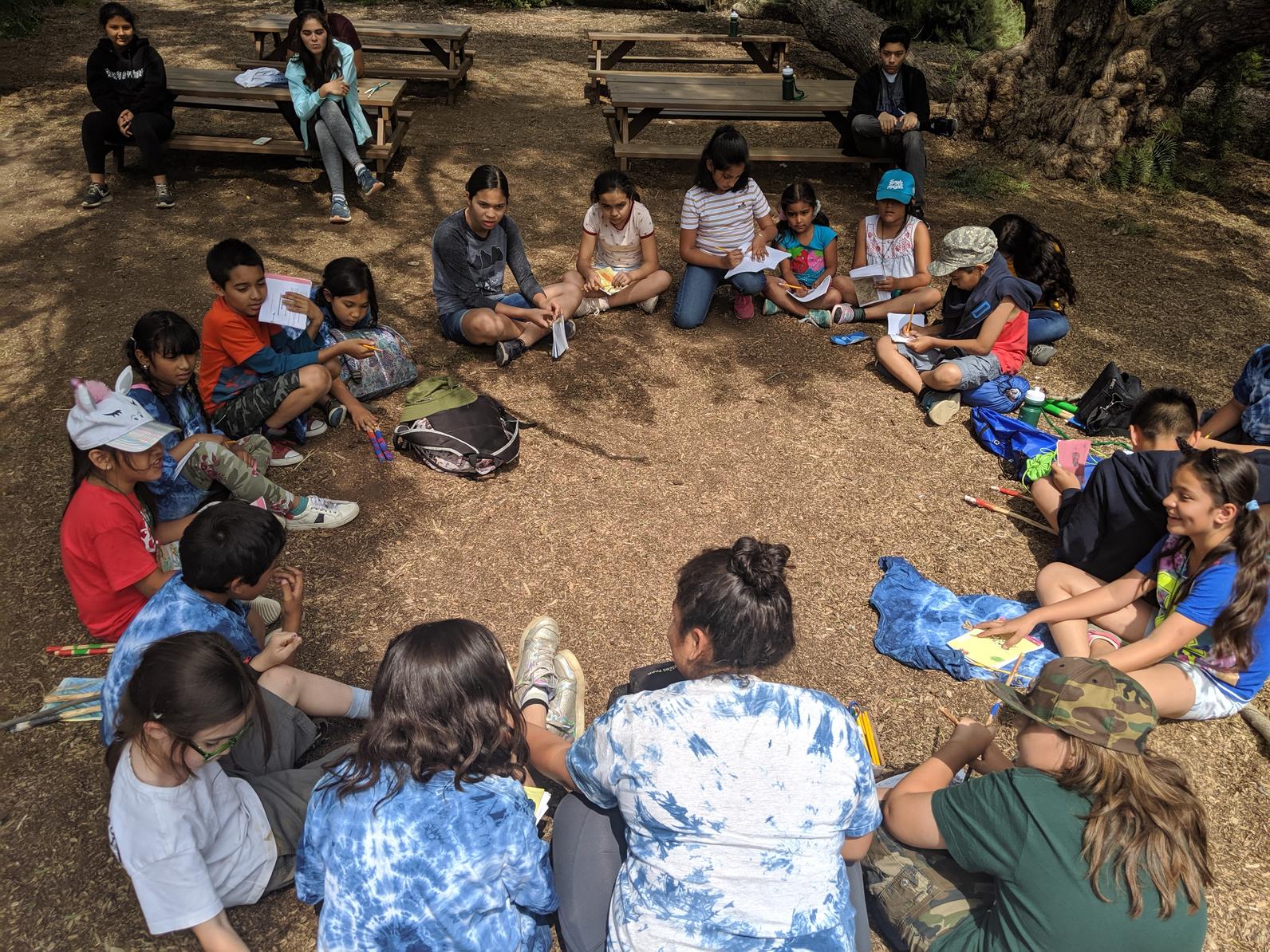 But sadly, An Arroyo Seco Summer Camp had to come to an end. Campers wrote their final nature journal entries, and we went around sharing some of our favorite things from camp. Some of the most popular activities included playing water games, learning about indigenous instruments with Mr. Heralda, crafting bird costumes, and learning about birds with Nature of Wildworks. We were so sad to see our campers go, but we have high hopes that they'll come back for some of our family programming throughout the year!
Check out our An Arroyo Adventures Summer Camp 2019 photo album for some of our favorite camp moments!
Special thanks to Metropolitan Water District, Wild Birds Unlimited, Nature of Wildworks, Aztec Stories, and all our community supporters and sponsors for helping us make camp such a magical experience for local youth!
K.I.T. - Keep in Touch! We'll see you next year for An Arroyo Adventure Summer Camp 2020!