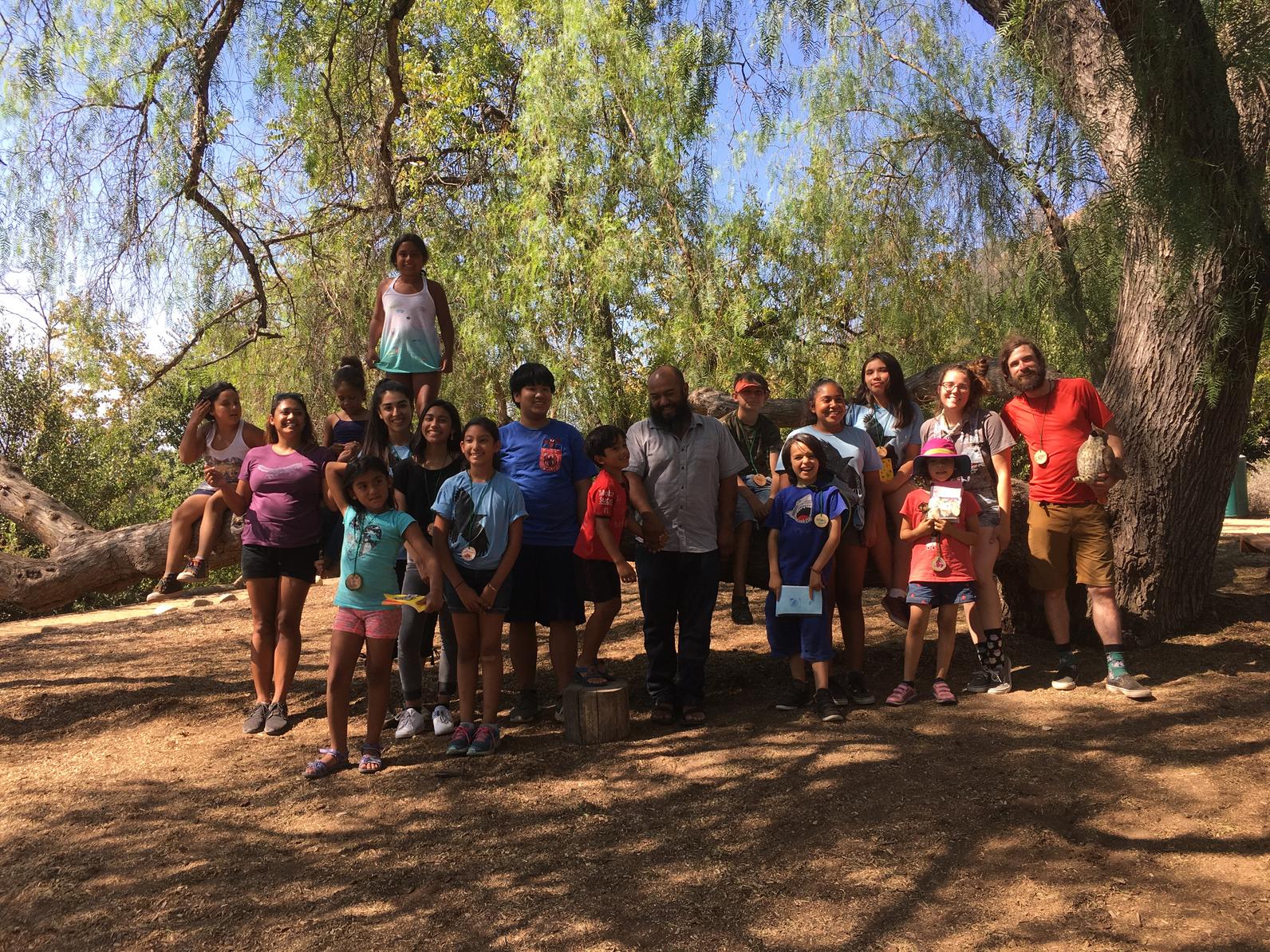 This summer marked the first time in 3 years that the Audubon Center at Debs Park held its summer camp for local kids between 7 and 12. We were so excited to re-introduce our summer camp, An Arroyo Adventure, which ran from July 23-27 here at Debs! The camp was an immersive, educational experience centered around 5 different, ecologically-themed adventures. Each theme circled back to the LA Rivershed and its tributary, the Arroyo Seco. Through these themes, campers learned new skills and how to become better stewards of our environment--all while having a lot of fun!
We started camp on Monday with a introductory opening circle where campers met each other and played some cool nature games such as Flinch and Hula Hoop Pass. Going along with the day's theme, campers learned about the plant life cycle, adaptations, and morphology and had a short lesson on native plants and the importance of habitat restoration. We also had a lesson on the Tongva tribe who occupy the Arroyo Seco. Campers had the opportunity to learn the edible, medicinal, and practical uses of plants to the Tongva. Then, it was time to get our hands dirty! Campers propagated seeds and watered plants in our nursery. We can't wait to see what'll grow from those small seeds!
Bird, bird bird...Bird was the word on Tuesday. We started the day learning about bird calls, wings, beaks, and talons and how the different parts of a bird's body helps each bird get its food and shelter. And, how looking at these bird parts helps us learn more about the birds' diet, habitat, and defense measures. You know how birds have different beaks? Beaks help birds get food. What do you think birds with thick, wide beaks eat? What about thin, long beaks? After learning about different bird parts, campers participated in the 1st annual Bird Olympics! Here, they tested their skills in wing flapping, running, water drinking, and breath holding against some of the most famous birds.
We ended the day with a cool guest lecture! Nature of Wildworks came and brought some feathery friends with a live birds of prey presentation. Mollie Hogan of Nature of Wildworks showed campters a peregrine falcon, harris hawk, red-tailed hawk, and a barn owl!
Next up was Watershed Wednesday! Water, water everywhere...but for our campers, mostly the LA River Watershed. We started the day
by learning about how water travels from the Owens Valley down to the LA River and its tributaries. Campers learned about the differences between natural and urban water cycles, as well as the journey our water takes from the Sierras to our homes. Then, we went to the Arroyo, and learned lessons on keeping the Arroyo clean. Did you know it akes 400 years for a diaper to disappear? Down at the Arroyo, campers also tried to do some water testing, where they saw the chemicals that can be found in the water as a result of pollution.
Our very own Husky Naturalist led our Naturalist Day on Thursday. We took a hot hike up to Peanut Lake, where campers were taught how to use their senses to identify plants and animals. Campters learned about outdoor ethics and Leave No Trace when going into nature as well as how to record and analyze what they see on hikes. We had a special guest, too! Mr. Michael Heralda, artist and musician, gave afun and valuable lesson on how Native Americans used nature to craft musical instruments! Campers got to create Toyon Rhythm Sticks and Mr. Heralda walked them through the steps he takes to craft his instruments from the Toyon tree. Campers sanded and painted their Rhythm Sticks and got to see some pretty cool instruments, including turtle shell shakers!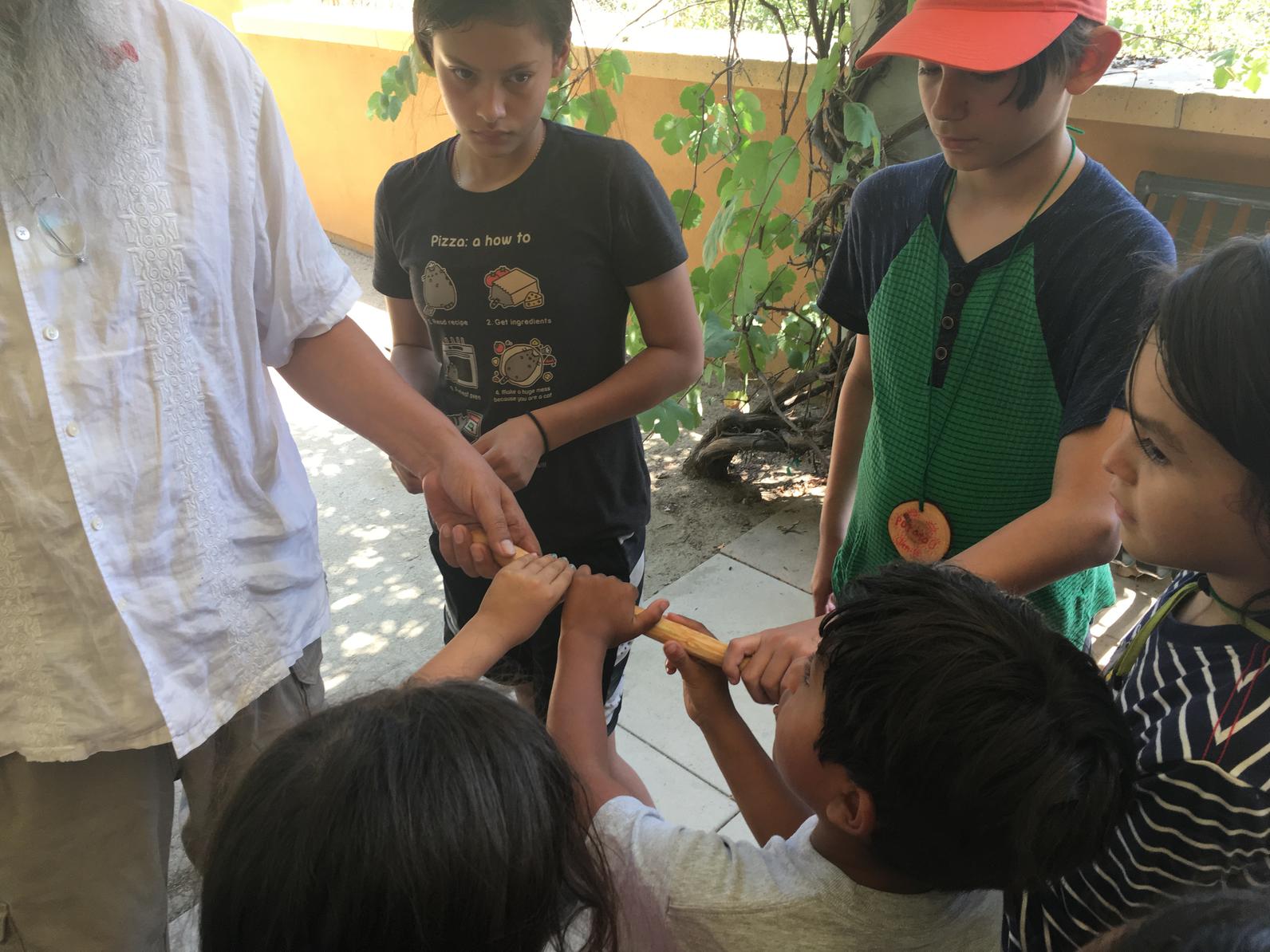 Friday was our last day. We'd had so much fun, but we made sure to end camp on a high note! Campers on Friday learned about ecosystems. There was a lesson about hte basic needs within a habitat and played games to teach them about how the availability of resources affects population size and grown in an ecosytem. We talked about what an ecosystem is and identified some trophic levels within an ecosystem. Campers also played created a food web connecting living and non-living elements found within Debs Park! They identified who they were, what role they played, and who they would interact with in the ecosystem. We went on a hike and looked for animal signs and built a food web of Debs Park based on their findings. Mr. Heralda joined us again and played all his instruments and campers joined him with their newly decorated toyon rhythm sticks!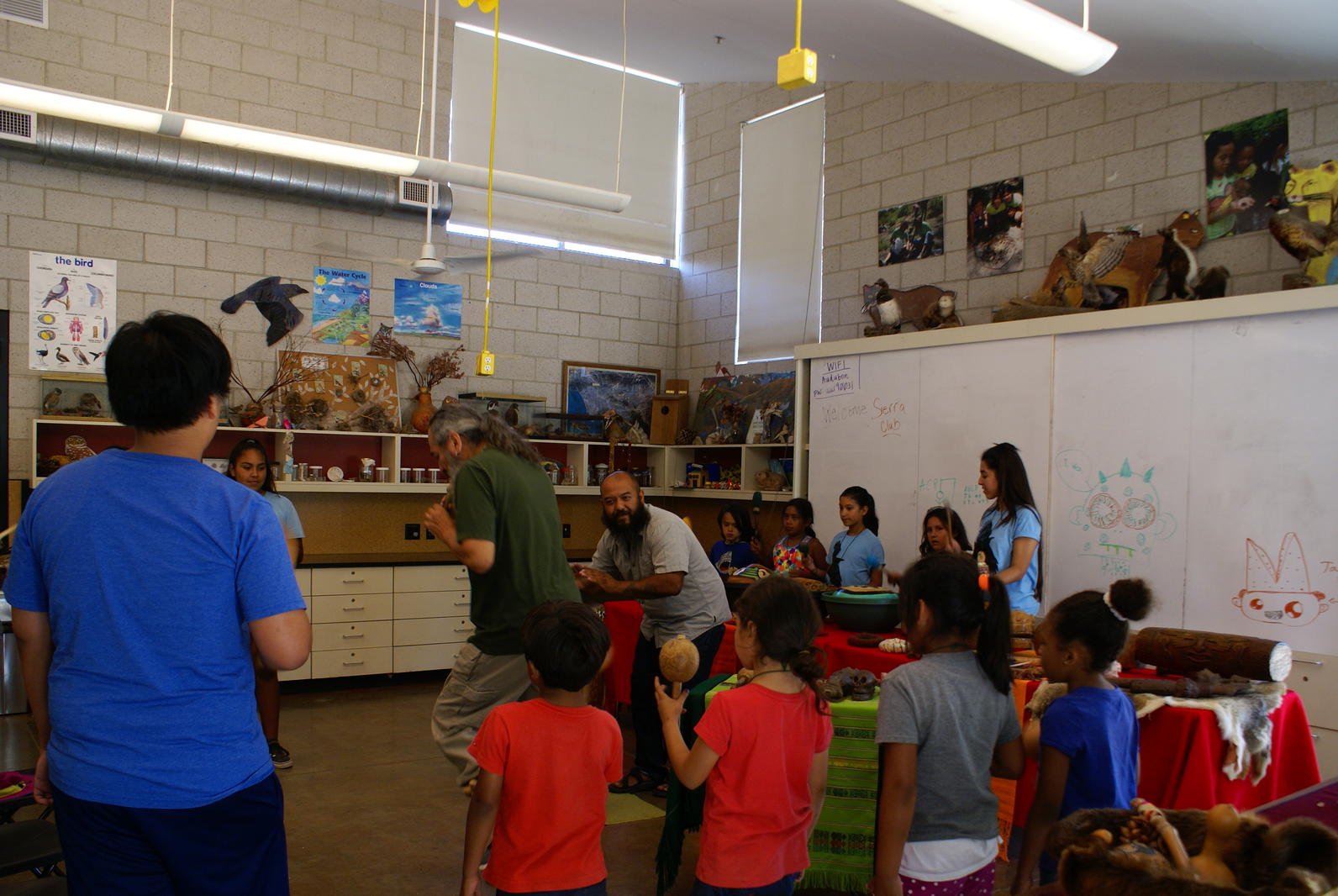 Overall camp was fun! Friends were made, lessons learned, journals decked out with cool stickers, and memories created that will live with us forever. We'll miss playing drip-drip drop, and seeing campers work together to create a river in the Children's Woodland...but hey, there's always next year!
Special thanks to Metropolitan Water District, Pacific Union International, and Wild Birds Unlimited!
See you for Arroyo Adventure 2019!