This Saturday, May 6th, we were proud to host our annual Bird LA Day Festival at the Audubon Center at Debs Park. Bird LA Day is an annual event meant to highlight the real stars of Los Angeles – it's native and migratory bird populations. Bird LA Day events around Los Angeles serve to educate communities about the over 300 species of birds that call Los Angeles home. It was great to see our local community come out to the Audubon Center at Debs Park's Bird LA Day festivities for a day full of fun, arts, music, and birding for everyone!
The day started with our Early Bird Count at 8am. Over 50 community members showed up to help us track bird populations found throughout the 282 acres of Debs Park. The birders split up into 5 teams, each covering a specific part of the park and counting all the birds they encountered either by sight or sound. All together, these 56 birders recorded 783 birds belonging to 65 species.
Throughout the day, the Center's courtyard was full of activity – from artist-led workshops, to arts & crafts, a puppet show, and concessions – there was something for everyone at this Bird LA Day festival! We held several arts and craft workshops in partnership with the Arroyo Arts Collective to celebrate the premiere of SHELTER an art exhibit which will be on display throughout the Audubon Center at Debs Park until June 16th. We were excited to premiere this interactive art exhibit that draws on themes of habitat, native plants and birds, and global warming. We invite you to come check it out!
Artists from SHELTER led various workshops throughout the day including our famous Bird Hat Making Workshop, as well as an introduction to cyanotypes and drawing comics. In our Children's Woodland, we were happy to invite Self-Help Graphic's Mobile Barrio Studio, where kids and adults alike were invited to create screen-prints with their own birdy designs!
Because this day was for the birds, we were happy to host our friends Nature of Wild Works for a Birds of Prey show. This show featured a barn owl, a great horned owl, a Harris's hawk, a red-tailed hawk, and a turkey vulture. Many of the birds featured in the show are also birds you can find around here, so it was cool to see them up close and personal! Kids and adults listened closely to this presentation, where they learned that a great-horned owl doesn't really have horns (they're actually just feathers!) and a turkey vulture doesn't have feathers on its head to make scavenging easier. When our focus wasn't on birds, the NPS LA Ranger Troca team and our Conservation Program Coordinator led native plant walks through our Butterfly Loop along, educating people on the connection between the native plants found here at Debs and the birds all around us.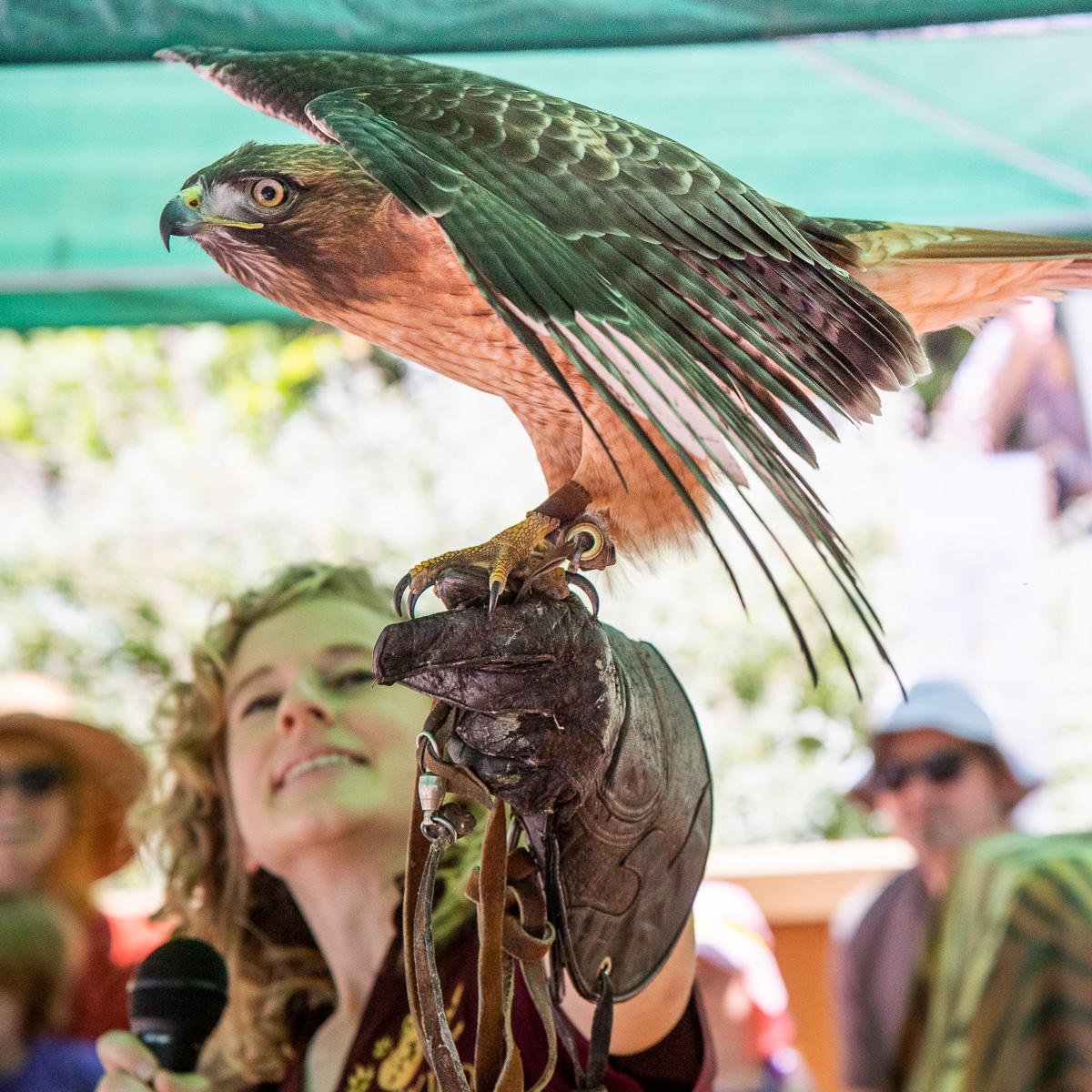 The day ended with the Los Angeles premiere of John Luther Adam's "Ten Thousand Birds" performed by Synchromy. The piece, meant to be played either indoors or outdoors, takes its inspiration and name from birds and its music imitates flocks of birds from different species. For this rendition, Synchromy created a unique and interactive piece, inviting the crowd to move through our Children's Woodland, where musicians formed "flocks," migrating and converging all around. We were proud to host this piece and introduce it to our community.
Overall, the Audubon Center at Debs Park's Bird LA Day was a success thanks to our wonderful partners – the Arroyo Arts Collective, National Parks Services, LA Compost, LA Works, Girls Today Women Tomorrow, Nature of Wild Works, Self-Help Graphics, Arroyo Seco Neighborhood Council, Historic Highland Park Neighborhood Council, Eagle Rock Neighborhood Council, and the Greater Cypress Park Neighborhood Council. Most importantly, it was our community that came together and made this event so much fun! We were glad for this opportunity to share our love of birds with our community! We invite you to flock to our photo slideshow below for some great #throwback moments from Bird LA Day 2019!