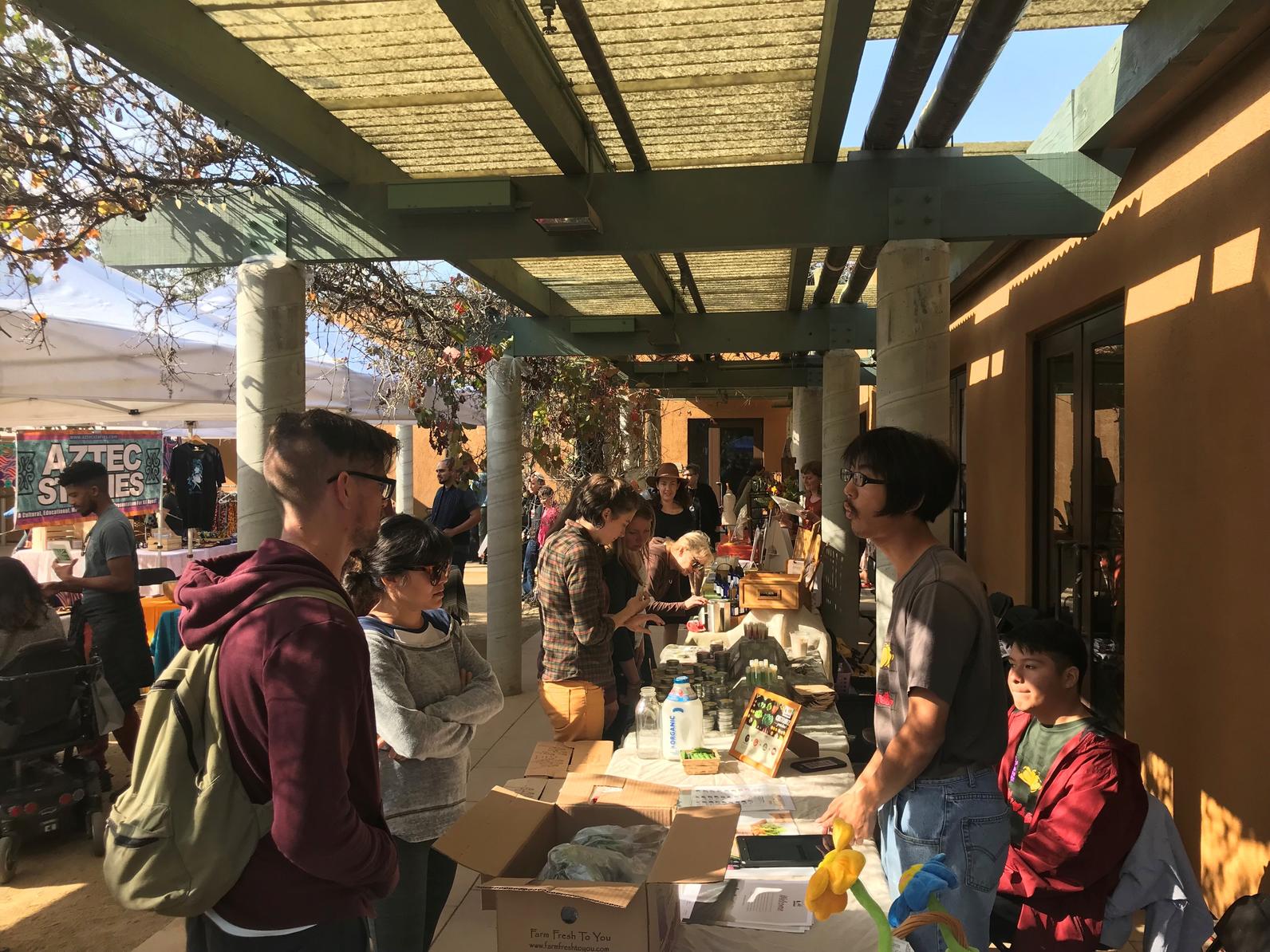 On November 24th, the Audubon Center at Debs Park held its 2nd annual Arroyo Seco Marketplace, celebrating local artists and vendors on Small Business Saturday. The event was marketted as a family holiday fair and market for local community members to enjoy the great small businesses Los Angeles has to offer. The Audubon Center at Debs Park partnered with several organizations to put on the Arroyo Seco Marketplace including Self-Help Graphics, National Parks Service, Ponderosa Cactus, Patagonia, and 2 neighborhood councils to create a fun, activity-packed day. The Arroyo Seco Marketplace hosted a total of 16 vendors and artists selling wares such as jewelry, tea, art prints, water drums, and cacti. Around 350 community members attended and experienced the free family activities offered at the Marketplace including holiday card printing with Self-Help Graphics, succulent potting and holiday wreath-making with Audubon staff, and nature arts & crafts and native plant walks with NPS and Nature School LA.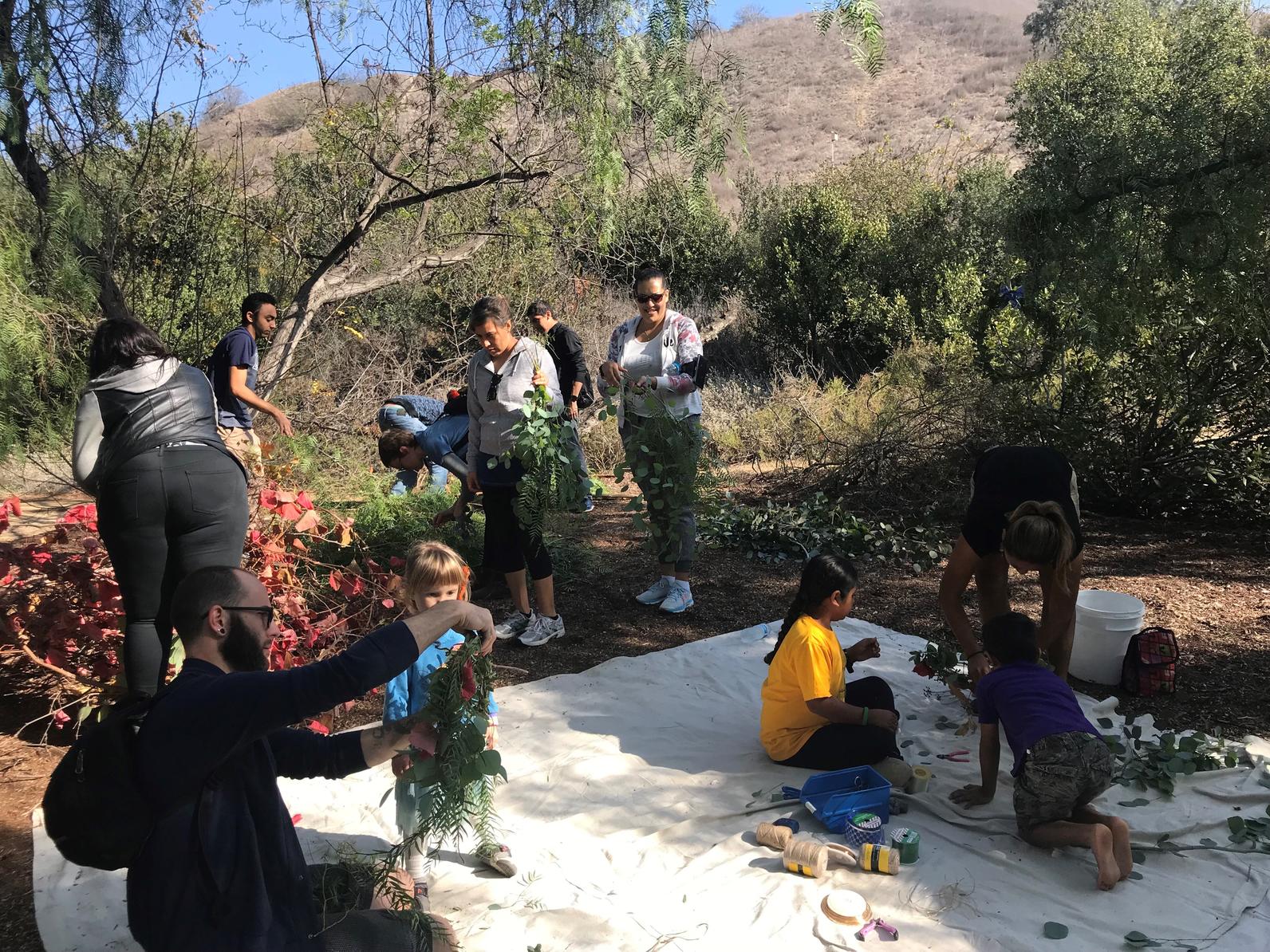 During the Marketplace, we were also happy to present 2 fun, interactive performances. These performances were a backed house! Our first performance was a live bird show by The Nature of Wild Works, featuring a red-shouldered hawk, a barn owl, and Harry the turkey vulture. "It was so cool to see so many kids in one room just to see birds!," said Estefania Palacio, Communications & Development Associate at the Audubon Center at Debs Park. Nature of Wild Works presenters were happy to educate community members on bird species, including information on how the hunted and ate. They also took questions from the audience. The second performance by Aztec Stories was another immersive experience. In Aztec Stories, Michael Heralda told indigenous stories to the audience through music. Mr. Heralda crafts his own traditional instruments from items he sources from nature. His show invites audience members of all ages to participate through singing, chanting, and accompanying instruments. Aztec Stories was a popular performance. The music Mr. Heralda and his audience created added a beautiful backdrop to the Marketplace festivities.
The Audubon Center at Debs Park was so excited to host this event for the second year! It's always great to support our community members and celebrate the talent in this community. When asked what his favorite thing about the Arroyo Seco Marketplace was, Center Director Marcos Trinidad said "I like how this event is able to create a healthy balance in supporting the community and the local economy. It's great to see how we are continuing our old traditions, such as native plant wreath-making while building some new traditions with our partners - such as holiday cards with Self Help Graphics or succulent potting with Ponderosa Cactus".
We hope you'll join us next year for the Arroyo Seco Marketplace. Be part of creating our newest holiday tradition! Do you have any great stories or pictures from this years Arroyo Seco Marketplace? Send them to us! Email debspark@audubon.org.