As an avid café and pan dulce consumer, I knew this hike was going to be a great one. It was a beautiful Saturday morning and the weather was forecasted to be a sunny 70 degrees. So, I made sure to fuel up, strap my hiking boots on, and get ready to meet the honored guest of the hike, Assemblywoman Wendy Carrillo. As excited as I was to meet her, I was also excited to see the community come out and talk to their local representative and, as an added bonus, check out some cool birds that have migrated to the Center.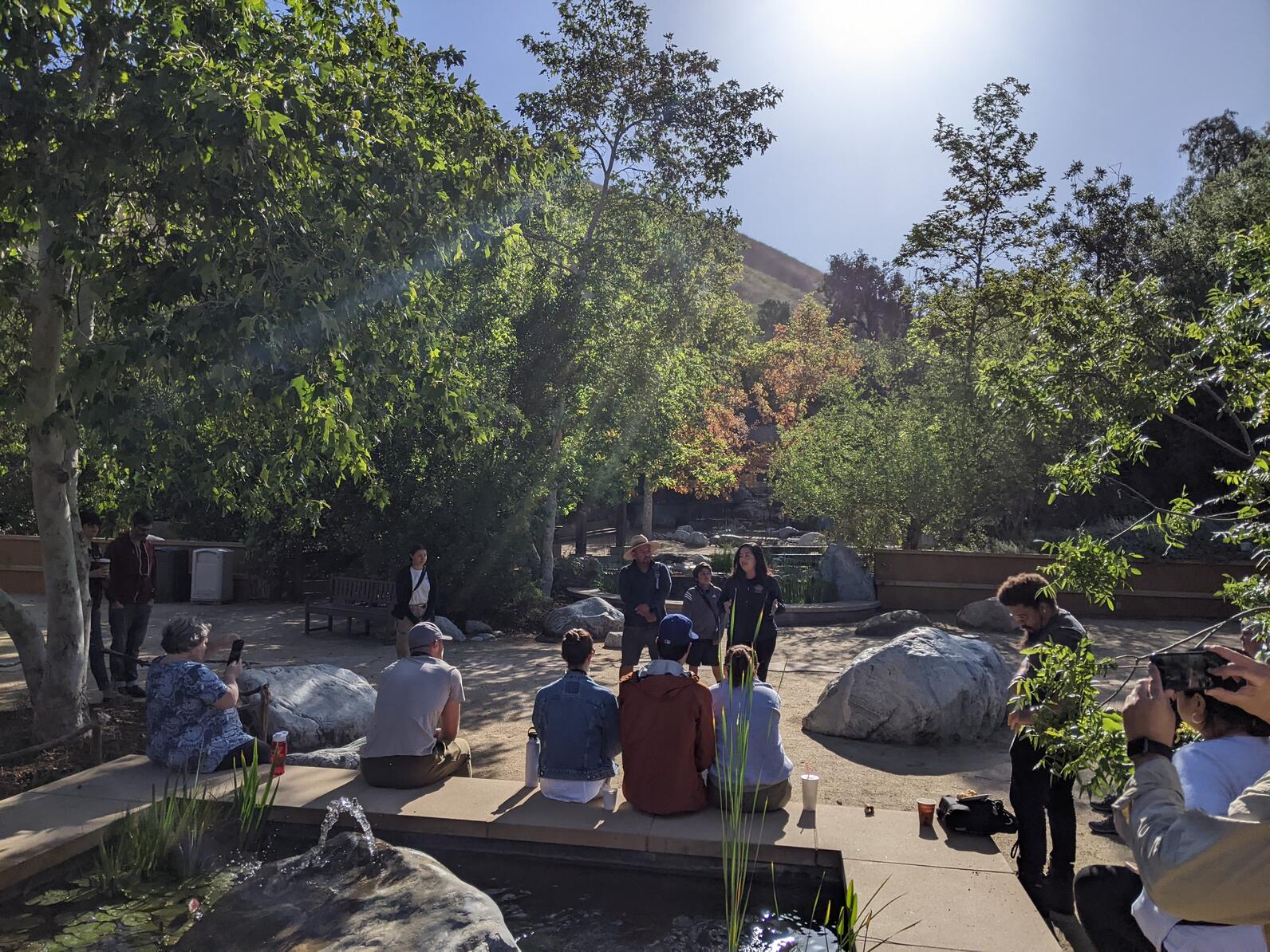 After getting our fill of café and pan we gathered at the courtyard to hear a little bit about the projects that Assemblywoman Carrillo is a part of, as well as some bills she is supporting. There were over 20 people in attendance. The Assemblywoman thanked the community for coming out and hoped they would support a bill that would grant Outdoor Access to Nature for everyone. Being that we were going to be out in nature I thought it was a perfect opportunity for the community learn about this bill. The Audubon Center at Debs Park is such an amazing place because it attracts different people from all around Los Angeles and beyond, and I have been fortunate enough to see and feel the deep connection that the community has to the Center. Everyone should be able to feel that way when out in nature!
So, we all headed out on our hike. Our goals were to have a great time, see some amazing birds, and get up to Peanut Lake. As we walked towards the parking lot with binoculars in hand and an eagerness to see what finds us, we were immediately greeted with a lot of different chirping sounds. Some of the amazing birds that we encountered during our hike were the Anna's Hummingbird, Black Phoebe, California Scrub-Jay, and a lot of Ravens soaring. Although not as easily spotted, we were able to hear and see movement of the Bushtits and the California Towhee. Being able to see all these amazing birds was one of my favorite parts of the hike, but it was also great to see all the different native plants and trees that the center has. Native plants attract our local birds and wildlife and create a habitat for them. Being that the Center's primary goal is to restore the connection between people and the land in Los Angeles, this hike was the perfect opportunity to foster these connections.
All and all, the hike went well - the community was able to meet and chat with Assemblymember Wendy Carrillo, see some amazing birds, and get out in nature. The Center continues to inspire people to experience, understand and care for their local natural world.