This past Saturday, we held our annual Bird LA Day celebration- and it was a hoot! Despite a rather dreary day of clouds and light rain, over 125 people came to celebrate birds with us!
The event kicked off with an early morning bird count led by Audubon Staff and a handful of community naturalists. Members of the Northeast LA community and YouThink Youth joined us for the hike- lots of clouds and low lighting made for tough birding, but we had some enthusiastic and determined teams! In all, we heard and saw over 40 species and 363 individual birds. The groups were most excited about the glimpses of colorful migrants including Western Tanagers, Black-headed Grosbeaks, Townsend's Warblers, Wilson's Warblers, Hermit Warblers, and Lazuli Buntings.
Following the hike, count participants joined the rest of event-goers in exploring the various bird-themed activities. Booths from Patagonia, Community Nature Connection, and the Arroyo Seco Neighborhood Council offered some great information and gifts.
Arroyo Arts collective led bird hat making, where families painted bird shaped silhouettes and assembled them into hilarious head pieces. Mujeres de la Tierra led bird pin-making where visitors colored their own bird image and pressed their design into a wearable pin. Alma Family Services and Girls Today Women Tomorrow led succulent pot painting and planting where families gathered to paint colorful pots and plant adorable little succulents provided by neighborhood cactus shop, Ponderosa Cactus. Longtime volunteer Keiko Miller guided visitors through bird calligraphy techniques and origami, while community artist and naturalist Lydia Fothergill transformed children's faces into California Scrub Jays, Allen's and Anna's Hummingbirds, Purple Sage, and Brush Sunflowers using vibrant face paints.
The Nature of Wildworks' live birds of prey show was a hit and a major event highlight! Visitors marveled over a majestic variety of raptors including a Harris's Hawk, two Red-tailed Hawks, a juvenile Peregrine Falcon, a Great-horned Owl, and a Barn Owl named "Dancer". Audience members learned about the differences between hawks and falcons, and discovered fascinating facts that highlighted impressive characteristics of each bird. Did you know a Peregrine Falcon can dive over 200 mph? Or that an owl can't move their eyes in their sockets, but can turn their heads 270 degrees? Amazing!
The Nature of Wildworks also revealed the secret behind many raptor's "eternal grumpy look", distinguished by their protruding, seemingly furrowed brows: The secret is, they're not grumpy at all! But really, those brows act as "sunglasses" and aid their already impeccable eyesight by shielding bright light from the sun. Audience members also learned that despite their large eye size, owls actually don't have the best eyesight and rely mostly on asymmetrically placed ears for hunting by sound. Wildworks demonstrated the quiet flight of a Barn Owl's wings by sending Dancer up and down in the air, as the audience stood in wonder at the sight of flapping wings accompanied by complete silence!
Assemblymember Wendy Carrillo stopped by to partake in the festivities and to remind all how important it is to care for and invest in open spaces. She expressed excitement that the Audubon Center at Debs Park offers free monthly community programs and events that connect people to nature, and reiterated the intrinsic value of accessibility to parks and open green space in our communities.
Throughout the event we held tours of our Los Nogales Native Plant Nursery, highlighting the process of propagation and native habitat restoration. LA Compost demonstrated composting how-tos, and showed how to turn a compost pile. Raffle prizes were awarded all day, and event goers walked away with amazing prizes donated by REI and Wild Republic. Arroyo Seco Neighborhood Council provided a filling lunch, and Maracas hooked it up with refreshing agua frescas and horchata.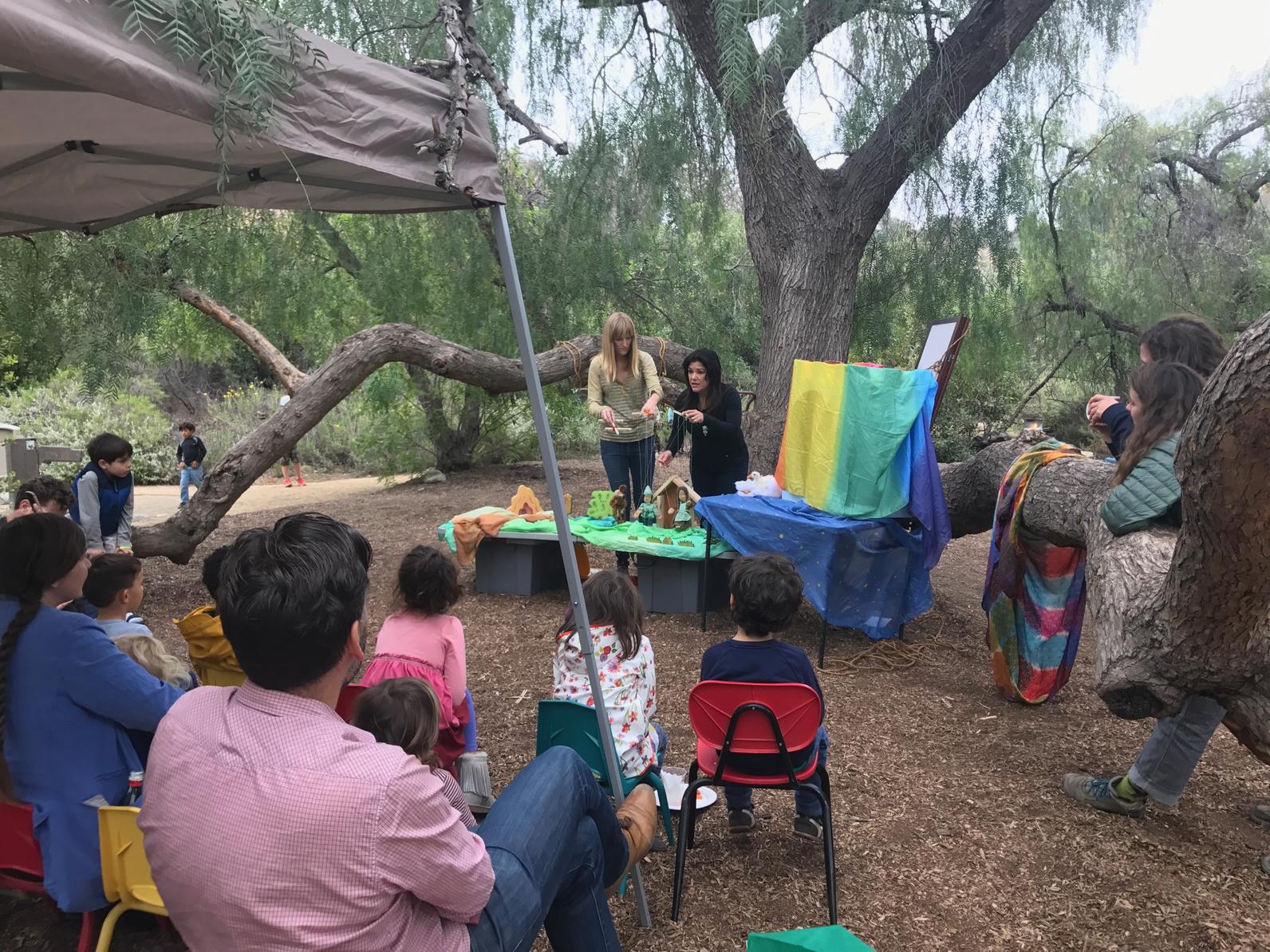 Arroyo Arts Collective put on a series of 3 short puppet shows that allured children and adults alike through song and storytelling using handmade puppets resembling animals found in the park.
It was a fun-filled day of creativity, inclusivity, love, and certain admiration for our feathered friends. It was an incredibly rewarding experience to see the community gathered together in such a beautiful space, in honor of birds!
We'd like to extend a huge thank you once again to our community volunteers who helped out for the day, and to our partners Nature of Wildworks, Mujeres de la Tierra, Arroyo Arts Collective, Arroyo Seco Neighborhood Council, Patagonia, REI, Wild Republic, Community Nature Connection, Ponderosa Cactus, Alma Family Services, Girls Today Women Tomorrow, LA Compost, LA Works, Youth Build, and YouThink Youth.
By Lauren Hill
For more photos of the Nature of Wildwork's raptors, check out Pieter Kaufman's photography here.