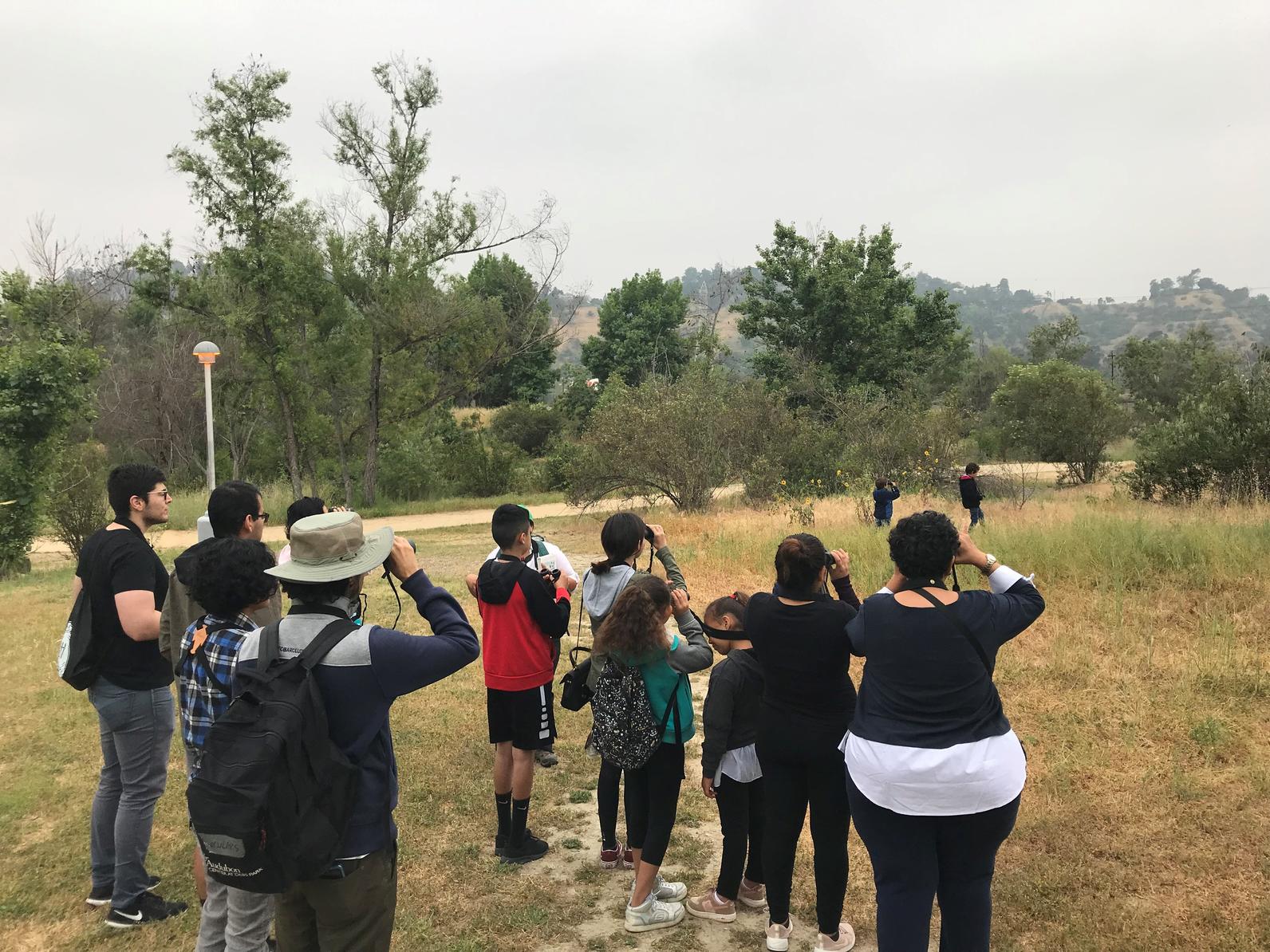 As of April, the Audubon Center at Debs Park has been holding Bilingual Bird Walks at the Rio de Los Angeles State Park, led by Tania Romero – our Fund II Foundation Apprentice. Tania has been a birder for 4 years now. After noticing that many bird walks are led in English and not accessible to her family (the majority of whom do not speak English), Tania was inspired to host bilingual bird walks in order to invite her family and community to learn more about birding.
On Saturday, July 6th 18 people showed up at the Rio de Los Angeles State Park to go on a bird walk along the park's wetland habitat. We were proud to facilitate an incredibly diverse bird walk with Tania's help! Most of the audience were people of color, and most identified as bilingual in English and Spanish. Some of the day's sights included Lesser goldfinches, mourning doves, Anna's hummingbirds, Northern mockingbirds, and a Red-tailed hawk. This walk provided local Latino families with a fun and educational opportunity to learn about the local birds that surround them.
When planning the Bilingual Bird Walk, Tania's idea was to host an English bird walk and a Spanish bird walk concurrently, led by 2 different birders. This shifted to one bird walk, with a bilingual birder who could communicate the information both in English and Spanish. Tania began learning bird names in Spanish. She noted that, "Learning birds in Spanish has definitely made my birding experience a lot more fruitful because I am able to introduce birds and birding to native Spanish speakers who don't speak another language. Also, some of the bird names make a lot more sense in Spanish and provide insight and further connections." An example she gave was the Black Phoebe, whose name in Spanish is Papamoscas negro. Papamoscas negro directly translates to "black fly eater". Black Phoebes are part of the flycatcher family – their diet is almost entirely insects!
For Tania, these bilingual bird walks serve as a representation of herself navigating two worlds at the same time and her experience as a Mexican-American woman and a Latina birder, where she simultaneously navigates two different languages all the time.
We will be continuing our Bilingual Bird Walks at El Rio de Los Angeles State Park. Join us next time on September 7th and bring your family!