This Saturday, September 7th the Audubon Center at Debs Park and LA Nature for All hosted Rooted Together: Navigating the Conservation Field. This event was a knowledge exchange and networking opportunity for early career professionals of color to connect with more established environmental professionals of color – from all areas, ages, and points in their careers. This event gave early career professionals the opportunity to ask questions, get advice, and hear about job opportunities within the conservation field in Southern California. There's an existing reputation that the conservation and environmental fields lack diversity – the aim of this event was for older professionals to share their advice and stories on how to break into the conservation field, how to create sustainable change, and how to navigate unconscious and conscious biases that exist in the field.
We stared the event off with some quick icebreakers and introductions over coffee and pan dulce. All attendees were assigned to a table that had a mix of professionals from all stages in their career – from those just getting started to hiring managers and directors. After the introductions, we launched into a mini workshop, where experts in various areas within the conservation field talked about who they are, what they do, and how they got into conservation. We were joined by Thea Wang, a former research biologist for the San Diego Zoo; Marcos Trinidad, Center Director for the Audubon Center at Debs Park; Christian La Mont, Social Media and Program Coordinator for Latino Outdoors; and Cindy Montanez, CEO of TreePeople. Each person talked about a specific area within the conservation field – research, community engagement, communications, and advocacy. It was inspiring to hear from these established professionals of color about how they blended their interests and skills with their passion for conservation and made a career out of it.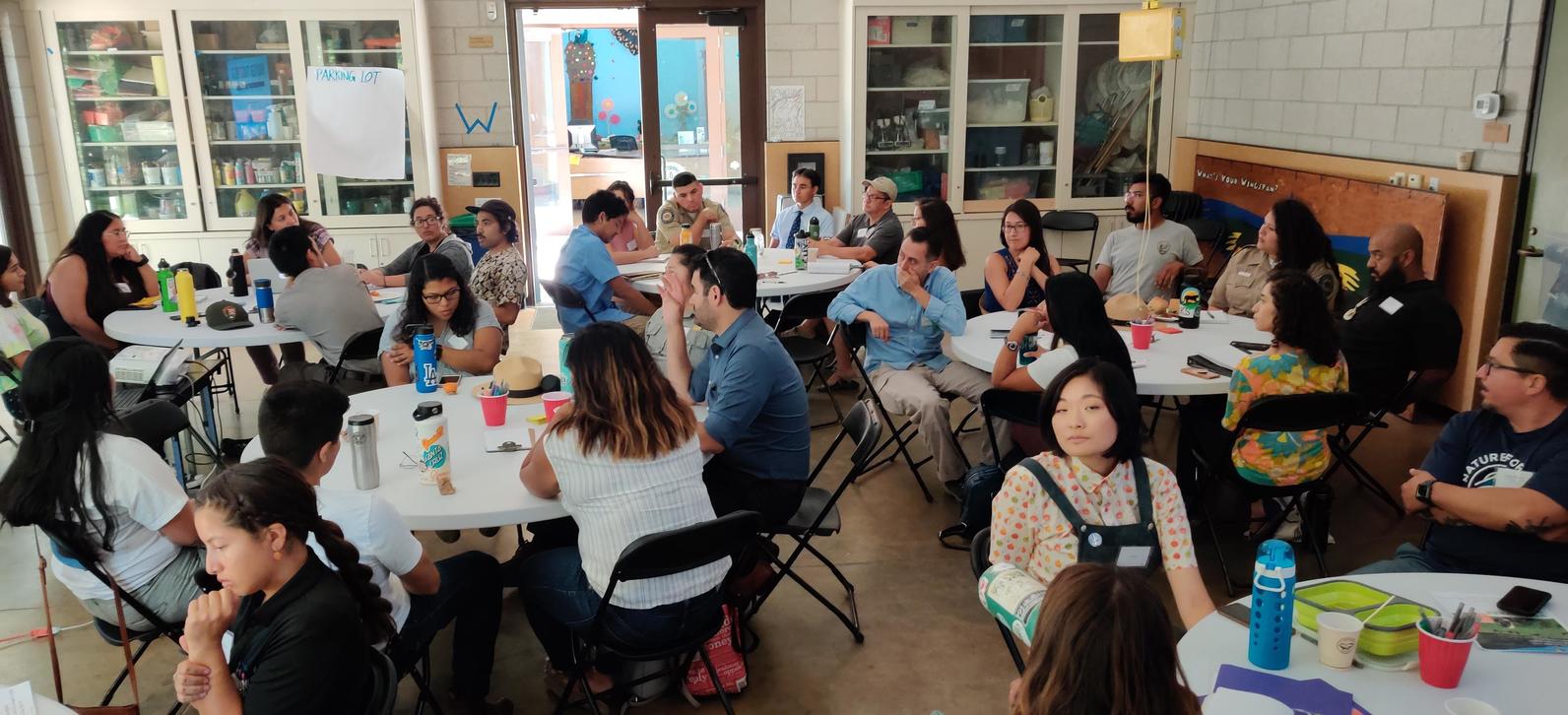 When the workshop was over, everyone took a quick lunch break in the Center's courtyard. Lunch provided an opportunity for folks to begin networking and sharing stories. After lunch, everyone went back to their tables for a guided discussion about navigating the conservation field as a person of color. All groups were asked the same questions, but it was great to see the variety of discussion that stemmed from these questions at each table. Some of the topics we touched on included challenges of working in conservation, the importance of having a degree in science, what hiring managers are looking for in potential employees, and how to move past unpaid internships. These discussion questions provided good starting points for established conservation professionals to discuss some of their experiences in the field, some of the things to expect when working in conservation, and some things they're looking for in prospective employees. Seasoned professionals were happy to answer questions, share their stories, some tried and true advice, and available job opportunities to the eager younger professionals.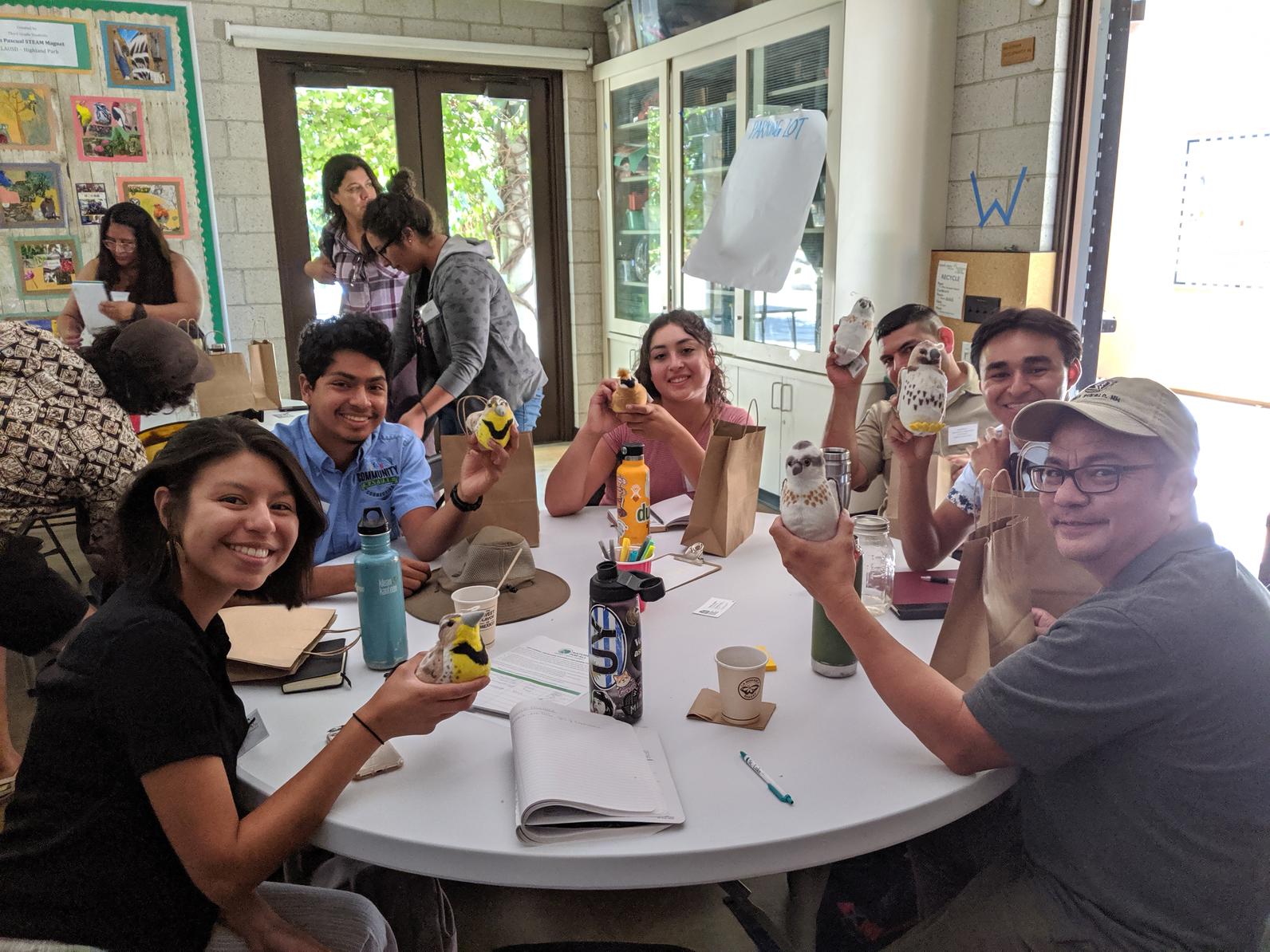 As the event came to a close, every attendee got their very own singing California native singing bird plushie. We had a variety of birds available, including ospreys, dark-eyed juncos, great horned owls, Western tanagers and more – everyone got a different bird! As folks were playing with their plushies, it was cool to hear the diversity of people – and birds – in the room.
We heard a lot of feedback about this event. Many professionals mentioned the necessity of having events like Rooted Together, especially as the conservation field grows to be more diverse and inclusive of other narratives. There was something very powerful about having established professionals sharing their own personal experiences of navigating through the conservation field as professionals and people of color. We hope to continue this work of connecting people to the conservation movement.