By Dana Poblete
Many years ago, the director of Audubon Center at Debs Park, Marcos Trinidad, had an a-ha moment while floating in the Owens River. With the Eastern Sierra looming to the west and the Owens Valley so vast and serene, he felt a calling to give other Los Angeles residents an opportunity to experience this peaceful, historic landscape—the very place where LA gets most of its water. Since then, he's led many youth trips to Inyo County, and recently, the first cohort of YouthBuild Environmental Stewards (YB.E.S.) trekked with Audubon to see the snow-capped Eastern Sierra and the dry lakebed of Owens Lake for themselves.
Eight students hailing from YouthBuild Charter Schools in Los Angeles set up camp at De La Cour Ranch, a sustainable eco-farm in Lone Pine, Calif., with the epic Eastern Sierra as the backdrop. This five-day camping trip was an immersive educational experience for these young people representing YouthBuild and their respective schools. Many of them had never even spent time in the outdoors. Along with learning the history of LA's relationship with the Owens Valley, the plight of the Paiute tribe who lived and thrived in the valley for generations, and the significance of the Owens River to migratory birds, this was also an exercise in building confidence and skills to inspire and bolster their career aspirations, and seeing that community and environmental advocacy are interwoven and within their power.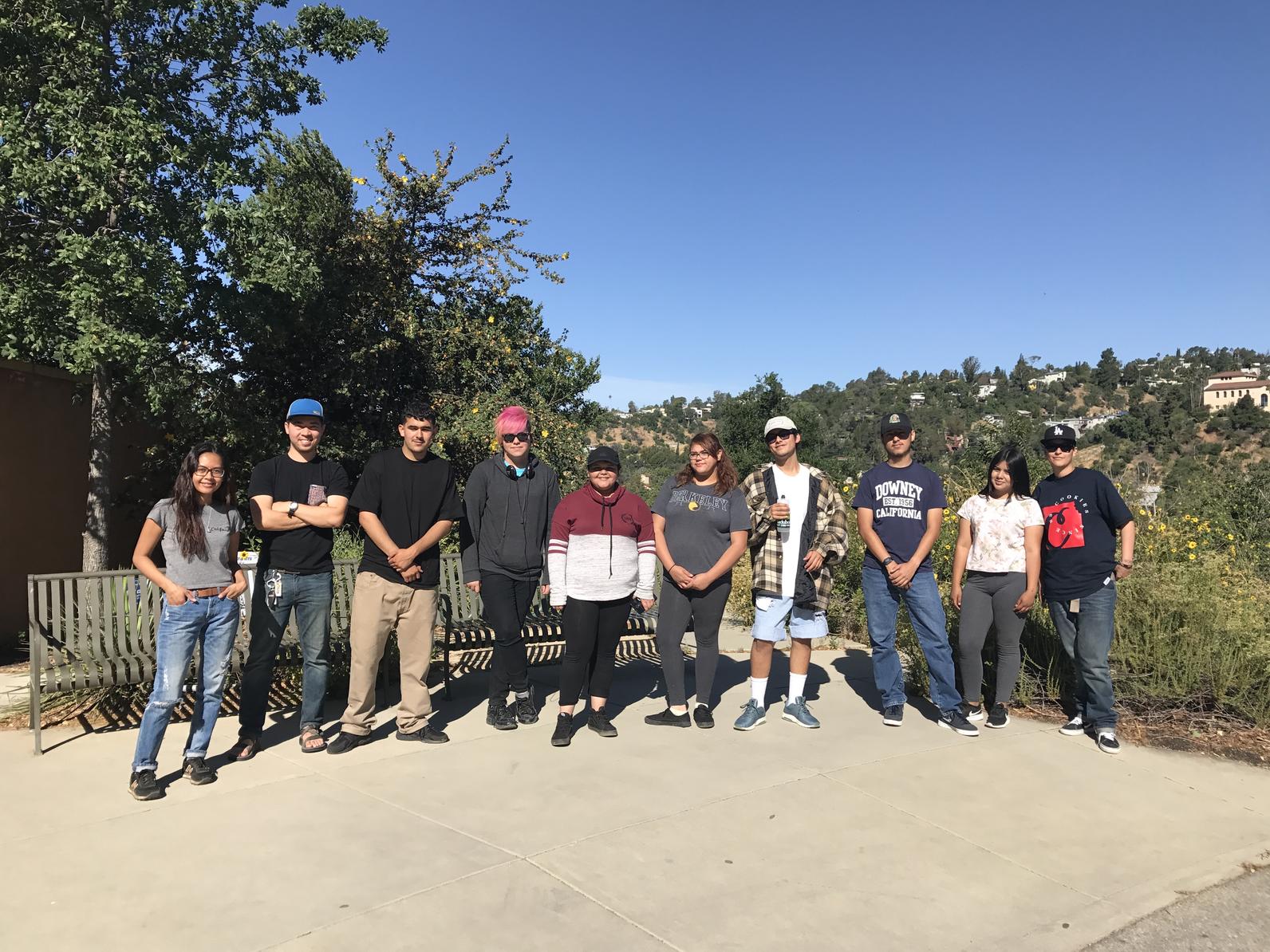 "Usually people go into YouthBuild with the mindset of, 'I just want to come here and get a high school diploma and get out,' says Ivana Torres, a student from Compton YouthBuild. "But within that process people learn leadership skills, communication skills, how to talk to others—you can say they learn how to find their voice. They learn how to speak up not just for themselves but for the community."
The group's first lesson was in the inner workings of a sustainable farm, led by Julie Frought, owner of De La Cour Ranch. The students helped Frought tend to the goats, horses, and chickens, and learned about composting in the process. They also teamed up to tackle a difficult trailblazing project. "I really challenged them and made them walk a path that I'd only walked once—and no human had probably walked that path, through the bushes and sticks and overgrowth and dead stuff, for 20 or 30 years," says Frought. "And it was hard and they all had tools and they laid down rope and we made it all the way to a beautiful waterfall."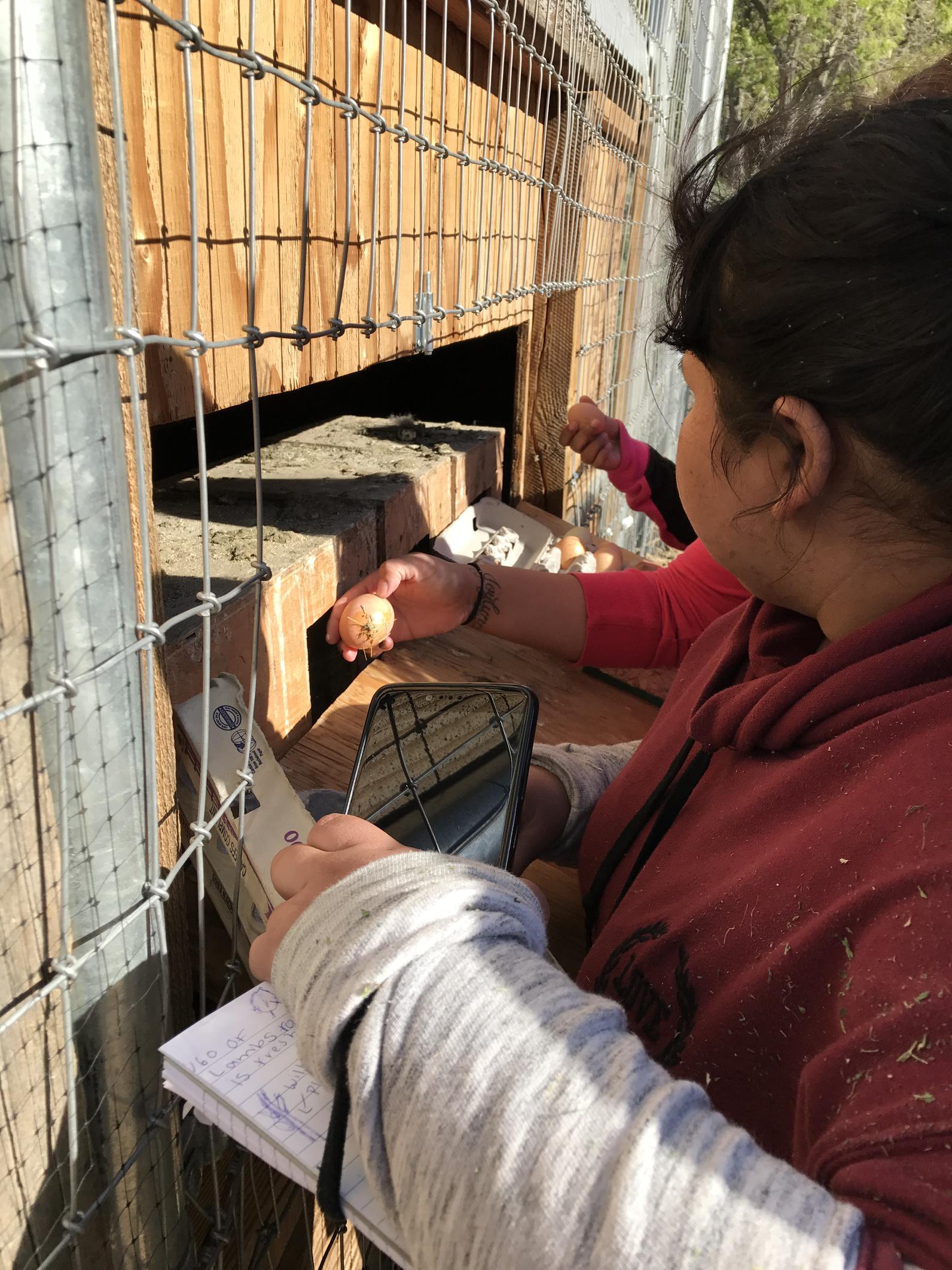 "Physical, goal-oriented activity is what makes people good workers in the world, in the workforce. Because I learned that at a really young age—about how you can make things really beautiful with your hard work—that's what I want to teach people, and then that translates into them taking pride in their work … in taking control in their lives."
Frought is just one of the many Owens Valley residents who have profound perspectives to share with Los Angeles YouthBuild students. (What many people don't know is Owens Valley and LA share a deep connection in land stewardship, since 25 percent of Inyo County and almost the entire valley floor is owned by LA, according to Frought.)
Kathy Bancroft, a Paiute woman of the Lone Pine Paiute-Shoshone Reservation, shared with the students an oral history of her tribe, once great innovators of irrigation who kept the valley lush with native plants for thousands of years. But ever since Los Angeles Department of Water and Power diverted the Owens River to the Los Angeles Aqueduct in 1913, Owens Lake has been desiccated, the bird habitat has become compromised, and the people of Owens Valley have to live with an environmentally hazardous dust problem.
"Kathy Bancroft really sparked something in me," says Amy Cervantes, a student from CRCD Academy. "She was talking about how we shouldn't try and conquer nature, we should try to work with it. I feel like that's very important and I feel like I'm going to take that back home with me and really try to be more involved there and be a part of more councils."
Bancroft also took the students into the lake to witness the massive restoration project underway. And Mike Prather from Friends of the Inyo led a birding excursion in the lakebed to teach them about community science and the significance of birds in signaling the health of an ecosystem, including urban landscapes like in Los Angeles.
All of this is knowledge that these youths intend to bring back to their communities to inspire their peers, mentors, teachers, and, on a legislative level, political representatives. "People my age can actually make a difference. We have power to know what's in front of us and to change it in the future," says Anthony Sevilla from LEAD.
"I'm on the Youth Policy Council in YouthBuild, so I feel that if young folks get involved with the city, our young voices can be heard, and there's going to be opportunities for everybody," says Daniel Herrera, a student from Compton YouthBuild. "In Compton, I think we need more gardens, more places where young folks can go—good influences. I want people to understand how nature is so beautiful, and I want to continue the cycle."
This trip was made possible thanks to the generous support of Pasadena Audubon Society.