Birding
Christmas Bird Count 2019
Tis the season for our FAVORITE holiday tradition!
Saturday, December 21, 2019
8:00am - 12:00pmLos Angeles, California
Location Details
Audubon Center at Debs Park
4700 N Griffin Avenue, Los Angeles, 90031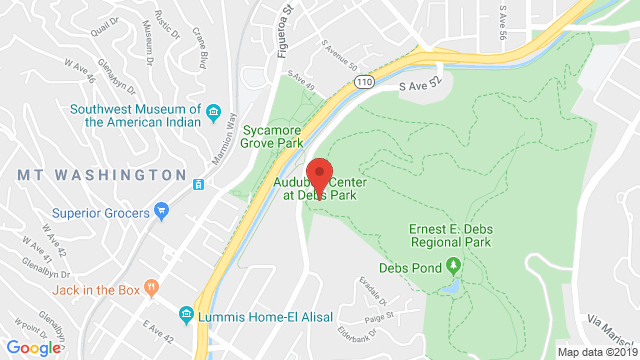 Join us for ACDP's annual Christmas Bird Count! Tally up the number of bird species and individuals you see as you hike around designated areas of Debs Park! We will have multiple groups going out, each assigned with a qualified bird expert– so all birding levels are welcome! Become a community scientist for the day and contribute your collective findings to this wonderful international early-winter bird census! Binoculars and field guides will be available for loan.
Hikes/Teams will be led by:
Assistant Professor of Ecology, Eric Wood from the Wood Lab of Avian Ecology and Conservation at CSULA
Director and Curator of Birds and Mammals, John McCormack and Collections Manager, James Maley from the Moore Lab of Zoology at Occidental College
Community Naturalists
Audubon Center at Debs Park staff
The data collected by observers will be submitted to eBird. It provides a picture of how bird populations change in time and space over over time.
Join us for a free lunch after the count as we tally up our group findings for the day!
Please RSVP to Cindy Castaneda at ccastaneda@audubon.org
Learn more about the history of the CBC here! Check here for more info about participating.
Happy Counting!