Visit
Birding Debs Park
Debs Park is a remarkable natural place in the middle of an urban environment.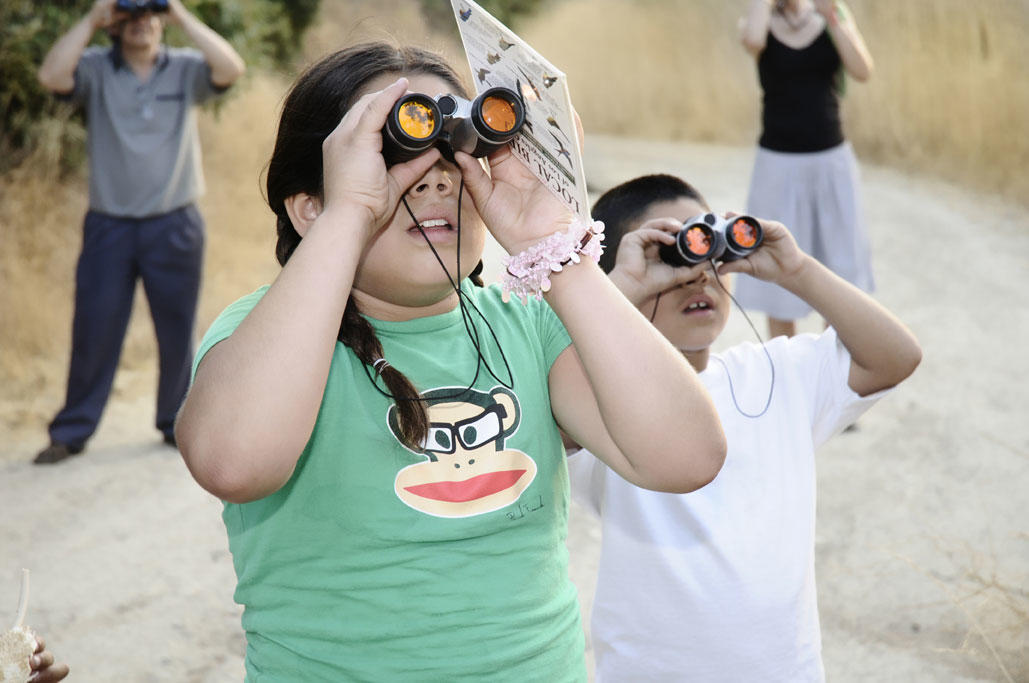 Ernest E. Debs Park, located along the Arroyo Seco just north of downtown Los Angeles, is a little-known but exciting spot to bird. It's at its peak in late April during the height of spring migration, but is also productive during the fall and winter months.
There are really two main zones within the park. The main entrance off Monterey Rd. leads to a manicured city park-like area with mature eucalyptus and pines. However, the majority of the park features a more rustic environment of walnut woodland, grassland and small amounts of coastal sage scrub.
When birding Debs Park, the first place I check is the dirt overflow parking lot just before the main lot. This open area is higher than the surrounding land, so birds are generally easy to see. Watch for Western Meadowlark, Lark Sparrow, American Pipit and Say's Phoebe (all fall to spring) as you approach. Several species of raptors may also be visible, particularly during late morning. Swainson's Hawks pass overhead in fall, and watch for White-tailed Kite in late winter and spring.
A vocal pair of Cassin's Kingbirds may generally be found in the eucalyptus that rim the parking lot (they say "Chi-beeer!"), which in winter are filled with Yellow-rumped Warbler, Dark-eyed Junco, goldfinches and sparrows. These are joined by Western Kingbirds from Spring to late Summer. Less common warblers should be looked for among them during winter and migration, and Fall 1999 brought a Palm Warbler. Loggerhead Shrike is an occasional visitor.
Following the dirt road that leads down from the beginning of the overflow lot to some baseball fields, search the Toyon and Mexican Elderberry for Phainopepla and Hermit Thrush in early Winter when they're fruiting. The ball fields themselves, when not in use, should be checked for sparrows such as Savannah and Lark, and for flycatchers. A Gray Flycatcher has returned to winter here for at least two years. The eastern edge of the field where it meets the slope coming down off the dirt parking lot can be alive with ground-feeding birds in late Fall.
Returning to the main parking lot, I walk the perimeter of the large picnic area, listening for odd call notes. During migration, this area can be filled with warblers, especially Orange-crowned, Yellow and Wilson's. Hummingbirds, including Allen's and Black-chinned, can be abundant at the flowering eucalyptus in spring and summer. Migrants seem to use this pass through the hills as a route through the L.A. Basin, so remember to keep looking up. A couple Western Tanagers generally spend the winter in the flowering eucalyptus, as may orioles. Watch and listen for woodpeckers. Though Nuttall's is the most common year-round, Downy and Northern Flicker are also resident, and Red-breasted Sapsucker winters.
The large pine grove just north of the main parking lot harbors Mountain Chickadee in winter, and some years, more interesting species may invade from the mountains, such as Red-breasted Nuthatch and Pine Siskin. Summer can be dull in the grove, but watch for roosting Barn Owl and nesting Cooper's Hawk. Move slowly and quietly so as not to disturb either. Another specialty of Debs, Blue-gray Gnatcatcher, may be found year-round in and around the pine grove. Lawrence's Goldfinch is irregular, but may be common in Spring. Listen for its thin, bell-like call notes.
Walking up the hill on the west side of the parking lot, check the old date palms for Hooded Oriole (spring/summer) and Spotted Dove. The weedy field just to the south (through the fence) may be productive for sparrows in winter, and for migrants in season.
By now, the conifers that surround a small pond should be visible up the hill to the north. This is your destination. Keep an eye on what's perching atop them as you walk up (several trails will bring you there).
Although the pond it is now in a degraded state, there is often a Great Blue Heron or a Great Egret feeding along its shore during migration. A recent change in management style has resulted in the development of riparian and wetland vegetation along the edges of the pond, which should attract a much wider variety of birds in the future. The dense shrubs in the area may produce less common winter birds, so watch for unexpected montane species like Winter Wren and Golden-crowned Kinglet, both of which have occurred.
The "wild", and perhaps more interesting north slope of Debs Park may be either reached by continuing north along the ridge top from the pond, or by parking along either Griffin Ave. or Via Marisol adjacent to the Pasadena (110) Freeway. The bird community of this area is more like that of the foothills of the San Gabriel Mountains and presents a glimpse of what the region looked like prior to urbanization.
Some of the special resident birds in this section that don't occur in the surrounding urban areas include Wrentit (2 pairs), California Thrasher (4-5 birds), Orange-crowned Warbler (possibly non-breeding) and Spotted Towhee (c. 10 pairs) and Rufous-crowned Sparrow (5-10 birds, probably winter-only). Ash-throated Flycatcher, Phainopepla and Black-headed Grosbeak are conspicuous nesting species.
White-breasted Nuthatch and Oak Titmouse have been seen recently, but are not known to breed. California Quail has apparently been lost to hunting, fire, feral pets, or all three. Fall migration is generally slow in this habitat, since many of the plants have stopped producing flowers or fruit and water is scarce. However, fall migrants are often detecting calling overhead beginning in mid-August, and they occasionally land in the trees along the ridge north of the pond. After the first rains in October or November, watch for wintering Golden-crowned Sparrow and check the fruiting Toyon for Varied Thrush, a rare visitor from the north.
Spring migration, which begins in March with swallows, Rufous Hummingbirds, and Orange-crowned Warblers, can be spectacular in this habitat, with songbirds filling the oak and walnut-filled draws. Western Wood-Pewee, Warbling Vireo, and Swainson's Thrush can be particularly abundant, and Lazuli Buntings often sing from grassy openings from late April through May. Watch for non-bird wildlife at this season, including butterflies, snakes and amphibians (a slender-salamander has been found beneath fallen oak wood). Wildflowers, so rare within Los Angeles, are encountered along road cuts and in patches of native bunchgrass, including Golden-stars, Wild Hyacinth, and Blue-eyed Grass.
-- Daniel S. Cooper, (former) Director of Bird Conservation, Audubon California
How you can help, right now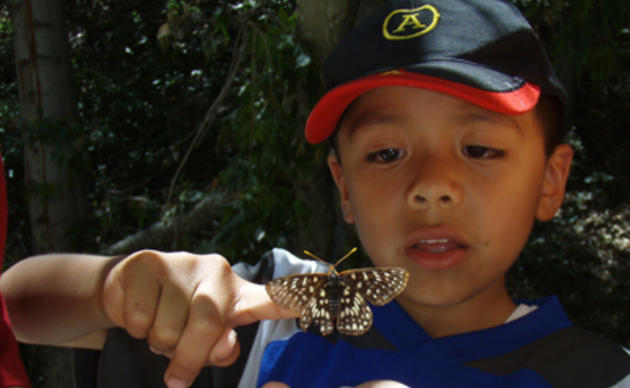 Make a gift
You can help us continue to deliver this outstanding programming to the Los Angeles area by making a generous gift today. Thank you!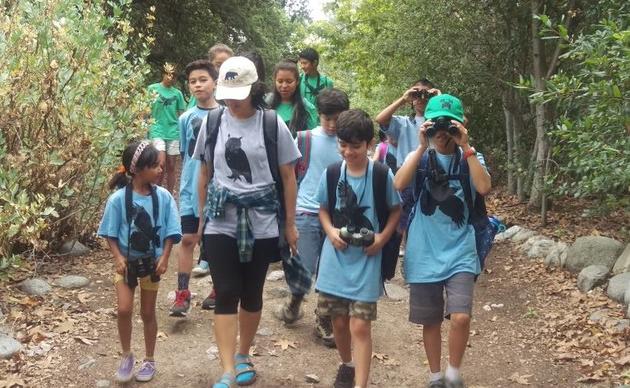 Volunteer with us
Giving just a little bit of your time can make a big difference to the success of our center.