On Friday July 27th, the Audubon Center at Debs Park was happy to kick-off our Summer Film Series in partnership with the Arroyo Seco Neighborhood Council and Epic Pictures Group by presenting Brothers of the Wind.
We kicked off the event with a live birds of prey show presented by The Nature of Wildworks and Mollie Hogan. Mollie brought 5 birds along: Sire the peregrine falcon, Queen the harris hawk, Dancer the barn owl, Dragon the red-tailed hawk, and Harry the turkey vulture. While we didn't get to see some eagles, Mollie's educational presentation was a treat for everyone in the audience. We saw Dragon eat a mouse, and how Harry made himself look big to scare potential predators. Kids and adults of all ages were in awe of these birds of prey. Mollie even called someone from the audience to pet Dancer the barn owl!
All night, guests were welcome to grab some popcorn and sno-cones. The night wouldn't be complete without a good ol' fashioned eagle-themed photobooth! Even Dragon couldn't resist!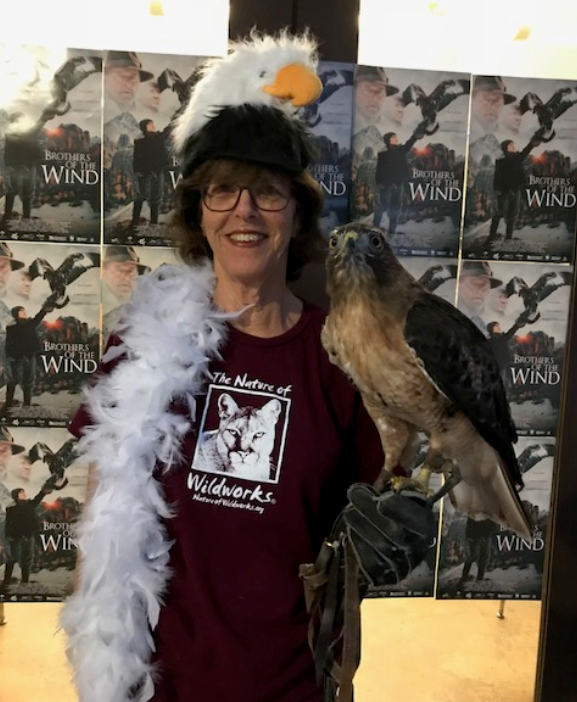 Once the audience was all birded up, we started the show. Center Director Marcos Trinidad and Epic Pictures Co-Founder, Shaked Berenson spoke on the importance and beauty of the film and how it tied to Audubon's mission. After that, it was lights..camera...ACTION! Brothers of the Wind was a beautifully shot account of a boy who saves a golden eagle and the difficult choices of growing up and growing apart. The audience was mesmerized by the story and cinematography. As the movie came to a close, even a couple of neighborhood coyotes started howling from emotion.
Our summer film series continues next month with A Birder's Guide to Everything. Join us on August 24th at 6:30pm for some nature arts and crafts and a fun movie about birding! Follow our Summer Film Series, showing a movie outdoors on the 4th Friday of each month.