About
Our Staff
Meet the team
Marcos Trinidad, Audubon Center at Debs Park Center Director
Marcos has been at the Audubon Center at Debs Park for nearly two years, and during that time has nurtured a growing community of volunteers, youth, and community organizations; implemented a facility and grounds improvement plan; and partnered with the National Parks Service to establish the only native plant nursery in northeast Los Angeles.
Born and raised in Northeast LA, Marcos has deep roots in the community. Prior to coming to Debs, he served as Director of Audubon Youth Environmental Stewards (a program of the Palos Verdes/South Bay Audubon Society), where he engaged and inspired community members to connect to nature and their community through restoration and volunteer science projects. He has also spent time as a Biology Technician for the U.S. Forest Service and an Urban Forester for organizations such as Northeast Trees and TreePeople. Marcos' formal education is in geology and anthropology.
Marcos is an avid birder, and frequently he leads trips to the LA River, Owens Lake, and the Salton Sea. He lives in Eagle Rock with his wife and two children.
Lauren Hill, Volunteer Coordinator, AmeriCorps VISTA
Though new in her position as Volunteer Coordinator at Debs Park, Lauren is no stranger to the Audubon Center. A volunteer since early 2016, Lauren has been deeply involved in habitat restoration projects, the redevelopment of environmental youth education programs, and building partnerships for projects like the Debs Park raptor survey and MAPS bird banding station.
In her position as the Volunteer Coordinator, she will be serving through the AmeriCorps VISTA program- a program designed to alleviate poverty through volunteer mobilization and capacity building with community-driven organizations. She plans to continue to provide the local neighborhood with environmental literacy opportunities by redeveloping volunteer-led nature education and training programs.
Lauren is originally from New England, spending most of her early life in both Maine and New Hampshire. Growing up in wild spaces gave her an innate appreciation and respect for the outdoors that eventually led to an avid curiosity of birds. Currently, she is carving out a path for herself in the conservation field as a volunteer field biologist and community naturalist, contributing to various bird surveys and banding research. In her spare time you can catch her birding and backpacking all over the place! Lauren is excited to be fighting for bird conservation at a community level, and helping the Audubon Center at Debs Park grow and reconnect its neighborhood with its urban wild spaces.
Lauren invites you to stop by to nerd out and bird out!
Cindy Castaneda, Conservation Program Coordinator
Cindy's passion to identify and provide protection for species and their habitat led her to pursue a master's degree in Biology at California State University of Los Angeles (CSULA). As a graduate student she studied the relationship between gene flow and landscape variables in amphibian species of special concern in coast redwood forest.
As a former Ecology Teaching Associate at CSULA, she explored the interaction of organisms with their environment at the individual, population, and ecosystem scales.
In the past couple years, Cindy's fervor for conservation made her a dedicated volunteer on restoration projects at the Audubon Center.
Her devotion to conservation continues as the newest addition to the Audubon Center at Debs Park Team in her role as Conservation Program Coordinator. She hopes to use her skills and knowledge to help the wilderness areas of Debs Park continue to provide an invaluable outdoor recreational opportunity for the community and habitat for native species.
Monica Reyes, Operations Assistant
Monica handles facility rentals and makes sure the center remains in top shape. Additionally, she has a wealth of knowledge about the natural history of Los Angeles, and is active in restoration work in Debs Park.
She cultivated a deep respect for nature during summer trips to visit family in Western Nevada where she would gather Pinyon nuts, go hiking, camping, and fishing with her family.
Monica is a Yerington Paiute tribal member and is motivated by the desire to honor her ancestors and pass on her cultural traditions and knowledge to future generations. She hopes to inspire others to the same standard of environmental responsibility and stewardship of Mother Earth that she lives by.
Natasha Khanna, Field Organizer
Natasha is Audubon California's new field organizer for Southern California. While she will be serving as the liaison to Southern California chapters, Natasha will be helping to build local advocacy on a variety of issues, with climate at the top of the list.
In the past, Natasha has volunteered here in the Los Nogales nursery and interned with the Palos Verdes/South Bay Audubon Society's YES program. She comes to us from the Special Service for Groups Alliance, where she served as case manager, connecting clients to mental health services. She was also a program coordinator and outreach consultant for the Asian Pacific Policy and Planning Council in Los Angeles. In her free time, Natasha likes to play soccer and practice yoga and mindfulness.
Plus our partner organization staff members:
Hector Cervantes, Nursery Manager and Park Interpreter
Hector works for the National Park Service at the Santa Monica Mountains National Recreation Area, but his office is here at the Audubon Center. As Los Nogales Nursery Manager, Hector leads nursery and restoration volunteers and guides native plant hikes. Additionally, he leads educational programs as part of NPS Every Kid in a Park, a national initiative to give free admission to National Parks to 4th graders across the country. Hector's fondest memories of growing up were camping with his father out in the mountains. That experience inspired him to study horticulture and build a career protecting the environment.
If you get a chance, stop by the Center and say hello.
Justin Yee, Urban Waters Ambassador and Nursery Co-Manager
Justin began working for the National Park Service in 2014 conducting vegetation monitoring and invasive plant removal in the Santa Monica Mountains. In 2015, Justin began re-activating Los Nogales Nursery with the help of NPS and Audubon staff, growing several thousand plants, training volunteers, and transforming degraded parkland into native habitat. Through his work at the NPS, Justin hopes to cultivate public appreciation for our natural landscapes as well as LA's urban ecology.
Currently, Justin coordinates the Urban Waters Federal Partnership, a coalition of federal agencies, state and municipal agencies, NGO's, and community organizations whose common goal is to revitalize and restore the Los Angeles River. Justin's 'enabling' role is to connect needs, resources, and partnerships to the group of 40+ stakeholder institutions.
Ernie Hidalgo, Executive Fellow
Ernie works with Audubon Center at Debs Park and TreePeople on projects that advance organizational strength and their mission in the community. He previously helped to develop programs and partnerships, coordinate volunteers and public relations, and manage projects for organizations such as the City of Los Angeles, Loyola Marymount University, American Red Cross and City of Montebello. Ernie serves as chairperson on the boards of the Neighborhood Council Sustainability Alliance and Metro's Westside/Central Service Council. He also serves on LA City's Rent Adjustment Commission, Alliance of River Communities Steering Committee, LADWP 100% Renewable Energy Working Group, Boyle Heights Planning and Land Use Committee, and with the GreenLatinos national environmental and conservation advocacy nonprofit.
A native Angeleno of Ecuadorian descent who was raised in LA's inner-city, Ernie developed a passion for social and environmental equity in urban communities and throughout the world. He learned to appreciate nature as a young child when his father, who earned an animal husbandry degree from Pierce College, would take Ernie on tours to rural farms while maintaining chicken coops and pets at home. Ernie rekindled his interest in the environment at 20 years old during a trip with indigenous tribal members into the Amazon rain forest.
Ernie strives to inspire, engage and support people to take personal responsibility for the urban environment and care for the local natural world. He dreams of a socially and environmentally equitable world in which the U.S. and other nations will join Ecuador in adopting the "Rights of Nature" to constitutionally protect the environment and that we will no longer depend on fossil fuels so that we may conserve Earth and its eco-biodiversity for future generations.
How you can help, right now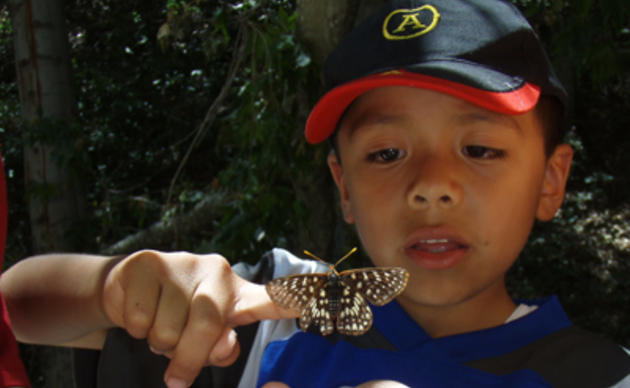 Make a gift
You can help us continue to deliver this outstanding programming to the Los Angeles area by making a generous gift today. Thank you!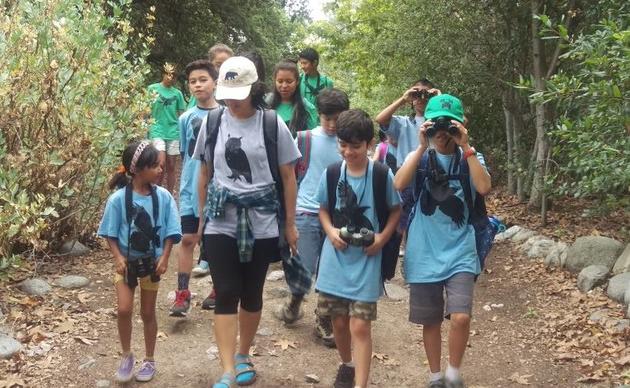 Volunteer with us
Giving just a little bit of your time can make a big difference to the success of our center.