About
Our Staff
Meet the team
Marcos Trinidad, Audubon Center at Debs Park Center Director
Marcos has been at the Audubon Center at Debs Park for nearly two years, and during that time has nurtured a growing community of volunteers, youth, and community organizations; implemented a facility and grounds improvement plan; and partnered with the National Parks Service to establish the only native plant nursery in northeast Los Angeles.
Born and raised in Northeast LA, Marcos has deep roots in the community. Prior to coming to Debs, he served as Director of Audubon Youth Environmental Stewards (a program of the Palos Verdes/South Bay Audubon Society), where he engaged and inspired community members to connect to nature and their community through restoration and volunteer science projects. He has also spent time as a Biology Technician for the U.S. Forest Service and an Urban Forester for organizations such as Northeast Trees and TreePeople. Marcos' formal education is in geology and anthropology.
Marcos is an avid birder, and frequently he leads trips to the LA River, Owens Lake, and the Salton Sea. He lives in Eagle Rock with his wife and two children.
Alex Yamashiro Broad, Volunteer Coordinator
Alex's love for birds and nature was instilled in him at a young age by his father. Alex remembers watching ospreys and loons during trips to his grandmother's home in Penobscot Bay, Maine, and marveling at condors while camping at the Grand Canyon. A native of Los Gatos, California, Alex has come to call Northeast LA home since moving here for school in 2009.
While an undergraduate at Occidental College, Alex worked in the Moore Laboratory of Zoology, a research lab and museum housing over 65,000 bird skins from Mexico. Now he seeks to use ecological restoration to improve native bird and wildlife habitat and educate visitors about the unique ecosystem found here in the NELA neighborhood.
Monica Reyes, Operations Assistant
Monica is the most recent addition to the Audubon Center at Debs Park staff. She handles facility rentals and makes sure the center remains in top shape. Additionally, she has a wealth of knowledge about the natural history of Los Angeles, and is active in restoration work in Debs Park.
She cultivated a deep respect for nature during summer trips to visit family in Western Nevada where she would gather Pinyon nuts, go hiking, camping, and fishing with her family.
Monica is a Yerington Paiute tribal member and is motivated by the desire to honor her ancestors and pass on her cultural traditions and knowledge to future generations. She hopes to inspire others to the same standard of environmental responsibility and stewardship of Mother Earth that she lives by.
Natasha Khanna, Field Organizer
Natasha is Audubon California's new field organizer for Southern California. While she will be serving as the liaison to Southern California chapters, Natasha will be helping to build local advocacy on a variety of issues, with climate at the top of the list.
In the past, Natasha has volunteered here in the Los Nogales nursery and interned with the Palos Verdes/South Bay Audubon Society's YES program. She comes to us from the Special Service for Groups Alliance, where she served as case manager, connecting clients to mental health services. She was also a program coordinator and outreach consultant for the Asian Pacific Policy and Planning Council in Los Angeles. In her free time, Natasha likes to play soccer and practice yoga and mindfulness.
Plus our partner organization staff members:
Hector Cervantes, Nursery Manager and Park Interpreter
Hector works for the National Park Service at the Santa Monica Mountains National Recreation Area, but his office is here at the Audubon Center. As Los Nogales Nursery Manager, Hector leads nursery and restoration volunteers and guides native plant hikes. Additionally, he leads educational programs as part of NPS Every Kid in a Park, a national initiative to give free admission to National Parks to 4th graders across the country. Hector's fondest memories of growing up were camping with his father out in the mountains. That experience inspired him to study horticulture and build a career protecting the environment.
If you get a chance, stop by the Center and say hello.
How you can help, right now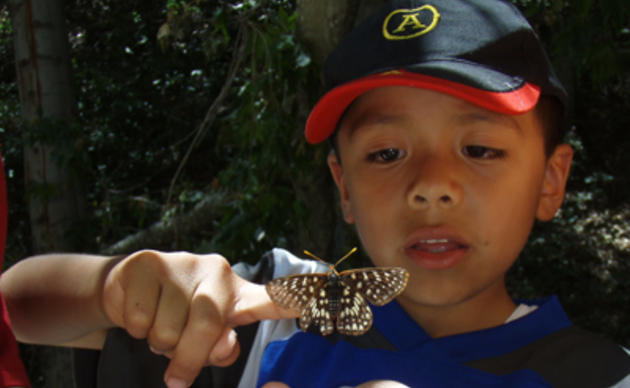 Make a gift
You can help us continue to deliver this outstanding programming to the Los Angeles area by making a generous gift today. Thank you!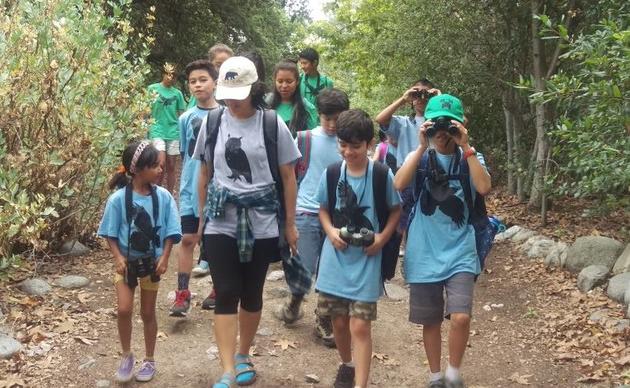 Volunteer with us
Giving just a little bit of your time can make a big difference to the success of our center.